In production since April 2022, the 2023 Nissan Z (aka 400Z) can only climb higher in terms of mods. One of the most radical solutions of the sort involves the HKS widebody kit and dual muffler exhaust for the Nissan 400Z.
The HKS Nissan 400Z widebody kit you see here was first displayed back in January at the Tokyo Auto Salon 2023, albeit as a prototype. We'll return to this below, but let's kick things off with the HKS Nissan 400Z dual muffler exhaust since it's already in production—at the time of writing, this came with a price of $2,980.
Built from stainless steel, the main trick of the HKS 2023 Nissan Z (400Z) exhaust involves a second pair of tiny rear mufflers, which remain hidden underneath the car. And, despite this construction, this exhaust system, doesn't change the 123mm (4.84 inches) ground clearance of the 2023 Nissan Z (400Z), while fitting both the 6-speed manual and the 9-speed automatic models.
The said elements, which HKS calls sub-silencers, limit exhaust droning. And you can leave them open for an aggressive soundtrack (90 dB or 71 dB at idle), or put some lids on, which sees the volume dropping to 87 db (63 dB at idle). In fact, you have a listen in the YouTube clip below.
The HKS Nissan 400Z widebody was tested in the wind tunnel
We can still see the factory front grille and large parts of the OEM front bumper in place. However, there are add-on elements on the sides, which join the front overfenders. Plus, we get a front lip spoiler with carbon side aero blades and a pair of carbon canards sitting above.
Those pronounced front-end aero pieces are matched by the standout front and rear ends of the side skirts, which are also made of carbon. Of course, we can't forget the rear overfenders or the forged carbon katana trim above the side windows.
Moving to the posterior of the HKS 400Z widebody kit, we find a more aggressive diffuser, as well as side aero parts for the factory bumper and a ducktail spoiler, with all these coming in carbon.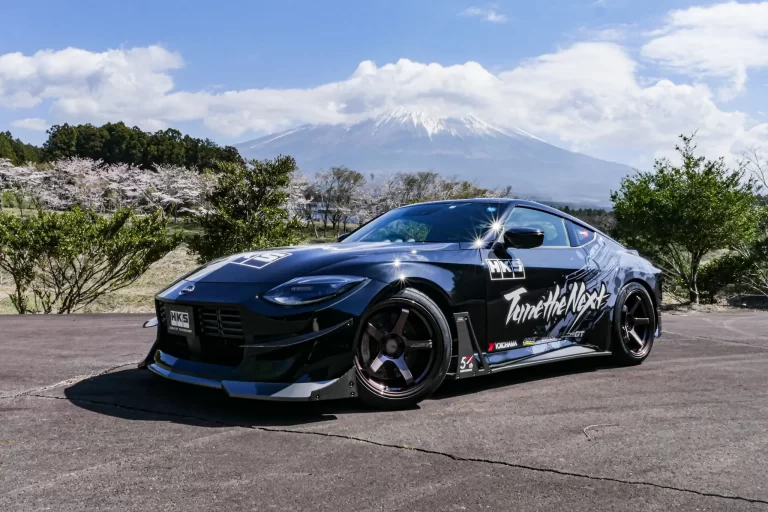 The HKS 2023 Nissan Z (400Z) widebody kit was tested in the wind tunnel, as shown in a video released at the end of last month. And we expect the kit to debut at SEMA 2023 (October 31-November 3), where you'll also see this VW Golf GTI Mk VI widebody kit an enthusiast built on his own.
The car in the clip doesn't sport the livery shown in Tokyo, but still rides on Advan Racing GT Premium wheels shod in Yokohama tires in an all-out JDM tuning effort. Oh, and with the carbon engine cover and other such parts under the hood, it looks like HKS is preparing quite a show for us.