This lifted Audi R8 Rally that a Charlote-based shop built just months ago is probably the first of its kind. No, really, I wasn't able to find anybody else who had built an R8 for off-roading, which is a bit surprising considering the German supercar had been in production since 2006 and is retiring at the end of this year, with an electric successor in sight.
Jacked-up sports cars and supercars are almost mainstream these days, as Porsche decided to build on the 911's rallying heritage after decades of tuners making 911 Rally/Baja builds. Then there's the Lamborghini Huracan Sterrato, which YouTuber Mark McCann jumped at his farm.
Don't worry, this lifted Audi R8 Rally, which has a badge adding to its factory name, also likes to jump, be it on dirt or while flying over sand dunes (we'll get back to this).
The Lifted Audi R8 Rally is a sub-$100,000 off-road build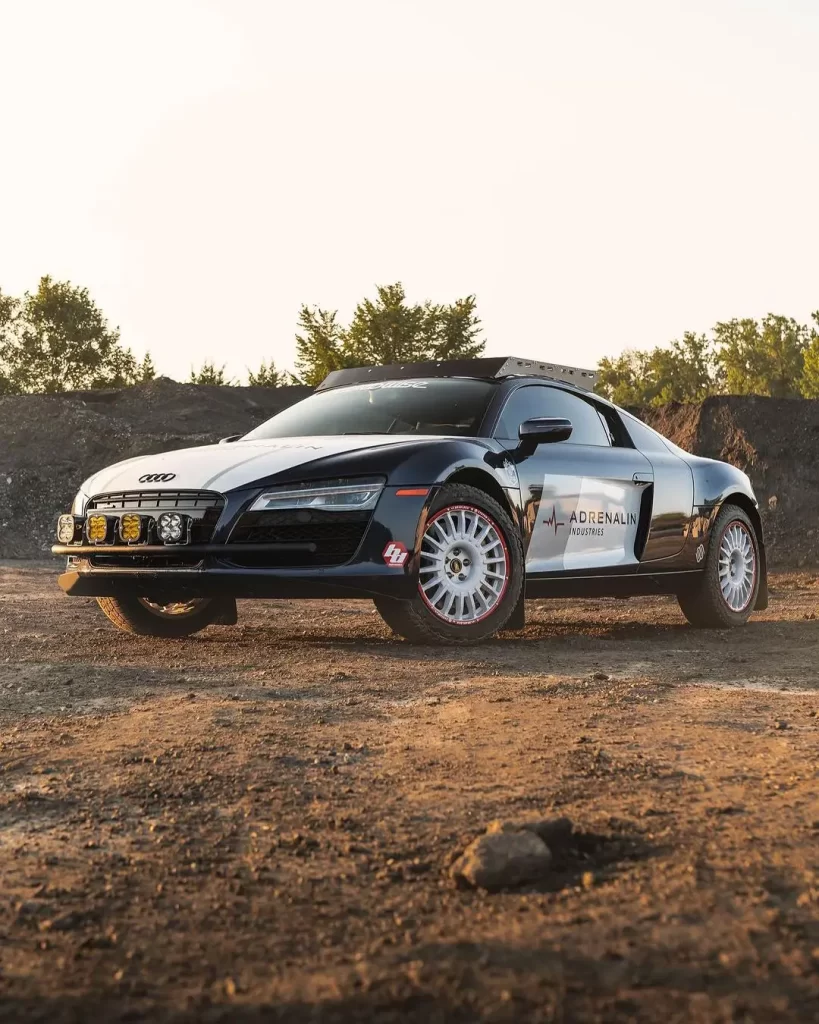 The problem with the two factory models mentioned above, as well as with the multitude of 911 Baja/Rally builds is that most, if not all, have prices that go deep into six-figure territory.
By contrast, a lifted Audi R8 Rally could cost under $100,000 to build, even though this example did cross the $100k border (also factoring in the labor), as its owners told us—more on this below.
For starters, the base car is a 2014 R8 V8. These days, a good-condition example of this first-gen R8 with the facelift costs around $70,000 when sporting the base 430 hp, 317 lb-ft (429 Nm) V8. Mind you, with the N/A 4.2-liter engine now featuring a custom intake and exhaust, you can add a little bit of spice to those numbers.
That kind of power is plenty for off-roading, and the factory quattro AWD certainly helps. Plus, with the S-tronic dual-clutch seven-speed gearbox (present on this car) brought by the facelift replacing the R-Tronic automated manual (single-clutch), you're in for a win.
Eurowise Performance/Off-Road, a Charlotte-based specialist that had upgraded many Porsche Cayennes for rough terrain, and the Lifted Audi R8 Rally for Adrenaline Industries, a specialist that offers overland/expedition trucks.
The upgrades on the jacked-up R8 include Bilstein coilovers with dampers featuring external reservoirs. These are fully adjustable, so they now give the Audi a 2-inch lift (5.08 cm). However, the rest of the suspension remains stock. Next, we have Braid Winrace Beadlock B Rally wheels shod in Falken Wildpeak all-terrain tires.
Diving into Audi's rallying DNA is all fun and games until a cheeky rock decides to put a stop to it, so protecting the vehicle's belly was a must. Thus, the R8 got a front underbody skid plate, along with one for the engine and transmission.
The #rally approach meant installing mud flaps, a frame-mounted front bash, and light bar, along with a quick-release roof rack fitted via Sea Sucker suction cups. Plus, a recent trip to the sand dunes showed the off-roading R8 needs to join street builds showcasing their twin-turbo kits via rear bumper deletes, so you can add that to the changes.
As the list of upgrades above demonstrates, this lifted Audi R8 makes for an entry-level Rally build, but it will still jump with respectable air time, as you'll be able to notice in the YouTube clip below.