When somebody builds a rotary-swapped Ferrari 456, the people who pay attention to the project are mainly split into two categories, even though these might overlap at times. Some follow the build—as you'll see, there's plenty of juice here—and others are simply curious to see if Ferrari hits the builder with a lawsuit. Regardless of your type, welcome to the summer 2023 update for this Wankel-animated Pancing Horse!
The rotary-swapped 456 is the creation of Reuben Bemrose (aka lord.bemrose), a New Zealand-based engineer who first started hooning the machine back in 2020.
When he got a hold of the 1990s grand tourer, this had already lost its N/A 5.5L V12 heart. For its initial stage, Bemrose gave the Ferrari a N/A Mazda 13B engine and no face. So it was sort of a drift car: it packed limited power, but had crash bars protecting the new engine and got used for drifting and pulled all sorts of tire-shredding stunts up to the point where it went up in flames.
Back in February this year, I revisited lord.bemrose's rotary-swapped Ferrari 456 while mixing this with an opposite build, namely a Ferrari V8-powered Subaru STI rally car built by Sam Albert (aka samalbertrally), who even raced the vehicle in the 2023 Oregon Trail Rally last month.
I noticed that, for its 2023 form, the contraption received a turbo for its 13B twin-rotor engine (500 hp seems like a conservative estimate) and a front end from an S14 Nissan Silvia, a vehicle known in the US as the second-generation 240SX. The JDM machine donated its hood, headlights, and front bumper, even though mods like the front splitter complement the deal and we can also see a generously-sized diffuser at the rear.
In addition, a molded widebody—Bemrose handled most of the fiberglass work himself—and a competition-sized widebody tell the world this is no factory Ferrari. The same goes for the interior, which mixes a Nissan Silvia S14 dashboard with a roll cage and pair of red bucket seats. Oh, and let's not forget the racing-grade composite side windows with sliding sections.
Just hours ago, Bemrose shared a short walkaround video showcasing the new-for-2023 form of his rotary-swapped, Nissan-faced Ferrari 456. Gone is the primer that used to adorn the car. In its place, we find a striking color that Customs Body Shop, the specialist who applied it, calls Split Blood Red Candy. Hey, they may have just mixed Soul Red and Ferrari's Rosso Corsa to achieve this color!
Lord Bemrose's rotary-swapped, S14-faced Ferrari 456 is more of a race car now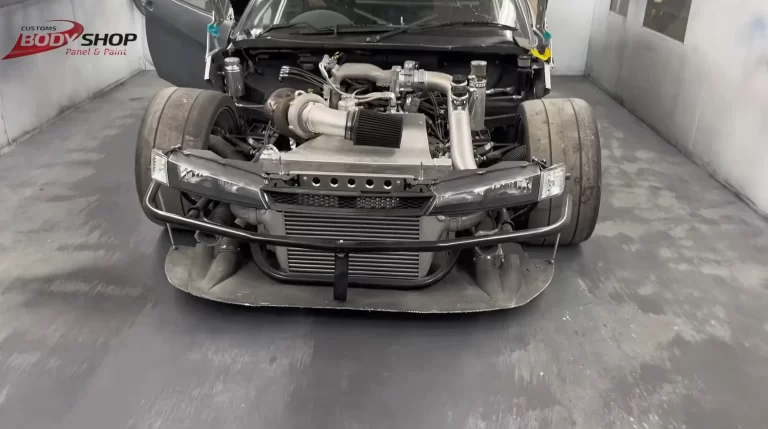 In a recent Facebook post that awaits you below, the said shop explains that the Mazda rotary-swapped Ferrari 456 is "far from being a street car and is more of a dedicated race car".
And while a block can be seen keeping the car from rolling in the video below, Bemrose resorted to this because the vehicle doesn't have a handbrake yet. Guess he'll just have to install one and showcase that race car side of the build soon.
Ferrari's position on the build
What does Ferrari say about the rotary-swapped 456, which now uses a Prancing Horse-like font for its windshield decal reading "Lord Bemrose"?
Back in 2020, Bemrose told The Drive that while Ferrari had contacted him about the project, the Italian carmaker's lawyers hadn't sent him any cease and desist letter, so the internet stories on that topic proved out to be fake.
To this day, the details of their communication remain unknown. And, given how the man keeps pushing the project forward, it seems there hasn't been any legal trouble to date.