The 2024 Mercedes-AMG C63 is the all-new version of the high-performance German sedan that competes with the iconic BMW M3. It's now a $95,000 an advanced hybrid machine borrowing tech from the Mercedes F1 team, so it should be great. Yet it hasn't received a warm welcome, and we believe it's not just because they downsized from a 4.0-liter V8 to a 2.0-liter turbocharged four-cylinder.
Now, the all-new AMG C63 just doesn't have the raw charisma of its rivals, such as the Alfa Romeo Giulia, BMW M3, and Cadillac CT4-V Blackwing. It doesn't look like a performance vehicle either and lacks all connections to its prestigious ancestors.
The widebody kit is a core part of a sports sedan's identity. You need flared-out fenders to separate your powerhouse from normal luxury cars with half the power. The old C63 did this especially well as a coupe, the C205 being this brute of a RWD machine. However, the 2024 C63 falls short in this department.
A renowned car rendering artist has created a body kit that fixes everything, the "C63 x 190 Evo II." It's a mix of old and new, the flowing design of a modern Mercedes and the boxy widebody from decades ago. Specifically, the 2024 C63 is matched with the 190E 2.5-16 Evolution II.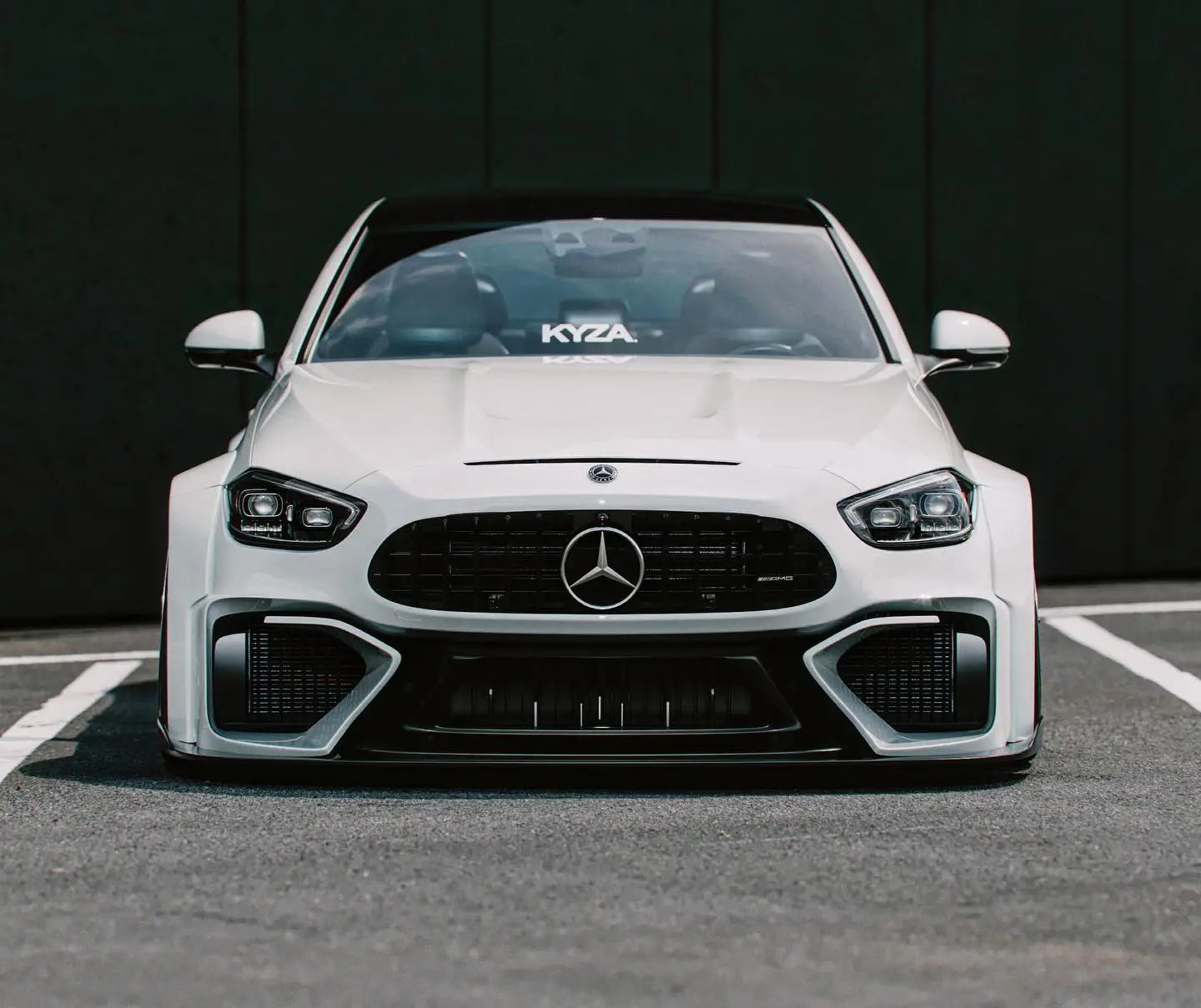 This legendary race car for the road is immediately recognizable to every Mercedes fan, even though it's rare. In 1990, the German company introduced this high-performance version of the W201 with featured extreme aero, including a body kit and huge wing.
Only 502 examples were made, just like with the 1989 190E Evolution (the Evo I). Both cars were homologation specials, built to compete in DTM (German Touring Cars) racing. The Evo II was fitted as standard with the 232hp AMG PowerPack 2.5L inline, which was optional in the MkI. Boasting 232 horsepower, it was considerably down on the 370 hp, 9,500rpm race car.
Expensive then and expensive now. The Evo II sports sedan cost DM 115,259 back in its day, three times more than a regular 190E. And because it's so rare, this classic holds its value well, with three examples having exceeded $400,000 at auction in the past few years.
Kyza is clearly a fan of the 190E Evo II, and has taken the right aero elements off the 1990 car to amplify this 2024 C63. Notably, boxy fender flares were added to the front and rear. It also boasts a unique front bumper with larger air intakes.
At the rear, the C63 Evo II boasts a towering wing on top of the trunk and another wing over the windshield. The design of the center lock wheels is taken from the 1992 DTM-winning race car.