I don't want to be that motoring journalist who finally admits old SUVs are cool, but they really are. We've seen a boom in demand for the Range Rovers, BMW X5s, and Porsche Cayennes from 20 years ago, back when everybody was too ashamed to own them. But there's no disgrace in loving a Mitsubishi Pajero Evolution, which is more of a race car than a family car.
If you want to buy something that will impress all those Wrangler mall crawlers and make Evo owners do a double-take, this SUV should be on your shortlist. Why? Because it has an awesome Guinness World Record: Most Victories of a Dakar Rally Car, 9 outright championships between 1985 to 2007. Now that's a lot of street cred'.
The Pajero is one of the longest SUV nameplates, on sale for over 40 years. Depending on where you live, this might be called a Montero or Shogun. In addition, Mitsubishi is pretty much synonymous with rallying, probably more than you think. The World Rally Championship was founded in 1973 and by 1974, the good-old Lancer was already competing.
Pajero inception
At the same time, Mitsubishi was looking to build an off-roader and revealed the Pajero concept at the 1973 Tokyo Auto Show. It was basically a funky-looking Jeep. In case you didn't know, the JDM company assembled about 200,000 Jeeps over nearly 50 years, most of them Willys models.
The production model took until 1982 to arrive but had everything off-road enthusiasts loved. The Pajero came with coil springs and a 2-speed part-time AWD system. You could get an automatic or a manual and the top V6 engine option made about 140 hp. Remember, this was the early 80s, so that's impressive. A lightly-modified Pajero was entered into the 1983 Paris-Dakar rally, and it performed well.
The Dakar rally was becoming a motorsport phenomenon, the perfect place to advertise cocktail and cigarette brands. It also made the Mitsubishi Pajero a household name and in 1997 (reveal date), we got something really special, the Pajero Evolution, built as a homologation special for Dakar.
You probably know this as "that cool red thing in some old Gran Turismo game," but did you know that you can legally import the Pajero Evolution into the United States? Yeah, it costs about $50,000 which is a lot of money, but it could be a solid investment. They literally don't make 'em like this anymore!
Pajero Evolution: the details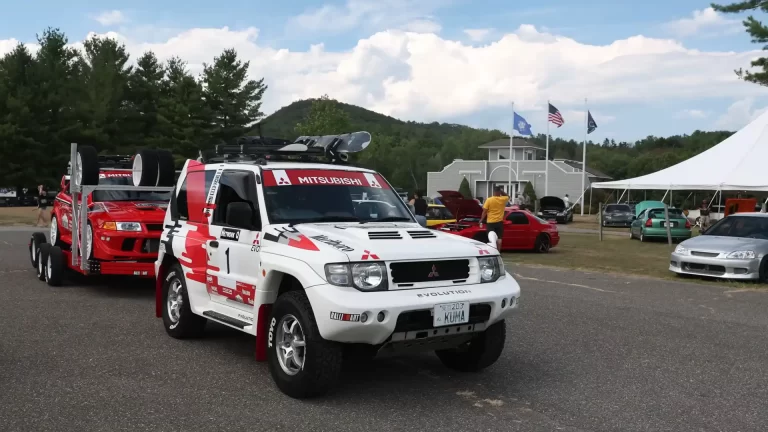 Just like the modern Toyota GR Yaris, the Pajero Evolution is quite different from the regular model it's based on. One quick look and you'll immediately notice the small 2-door body is flanked by massive box fender flares. The hood is made out of aluminum with a massive bulge and intake. The bumper is custom and facilitates the factory-installed skid plate. Throughout the years, there have been rally-inspired SUVs and pickups, but nobody except Mitsubishi made something like this, a turn-key racing monster.
Mechanically, things are quite different from a normal Pajero II. The Evolution features a double-wishbone front end and multilink rear with extended travel. It has adjustable shocks and Torsen limited-slip differentials on the front and rear axles, trick stuff on any car back in the 90s.
The body has an ultra-short wheelbase with two doors, but it's reinforced to cope with the hardships of Dakar. As a result, this isn't exactly a lightweight at about 2 tons. Mitsubishi couldn't just stick in an Evo turbo engine because reliability was key for racing, so they used a DOHC 3.5-liter V6 with variable valve timing (MIVEC), the 6G74 making 276hp and 256 lb-ft. Most of the 2,500 units produced were fitted with an intelligent 5-speed automatic, although a few manuals are rumored to exist. Interestingly, the Dakar rally drivers also chose the autos because this race was grueling enough as it was.
1997+25=2022, which means you can now legally import imported into the United States. If you want to know how the Pajero Evolution has aged and what it's like to have one today, check out the latest review from Throttle House and Larry Chen's interview with JDM Supreme, who's got the Lancer Evo 6.5 Tommi Makinen for the SUV to tow.
So where can you go to buy one? Well, fortunately, you don't always have to rummage through Japanese auction websites. But because there are only a few in the world, even specialist importers have trouble getting them. Here's one we found at Auto Source Group in Miami.