The Mercedes G-Wagon was among the only vehicles to ever survive WhistlinDiesel's durability testing. Sure, it developed some mechanical problems, but the luxury V8-powered 4×4 still worked, and there's a reason for that. Mercedes takes durability testing seriously and is currently putting its electric G-Class, the EQG, through its paces at the Nurburgring.
A decade ago, people would have said this is stupid; that you're not supposed to drive this type of machine on a race track because it's built for off-roading. Well, as it turns out, millionaires actually do buy $250,000 G63 models, tune them and take them racing sometimes.
The Nurburgring is world-famous for being a great place to track testing. The track is long, complicated, and difficult, so they say a mile driven here is equivalent to ten on a regular road. All the major manufacturers have test centers at the Nordschleife, which has just been opened.
YouTuber Carspotter Jeroen is currently stationed at the Ring, and his video briefly captures an Aston Martin, a Porsche, and the Range Rover Sport SVR before switching its attention to the 2024 Mercedes EQG.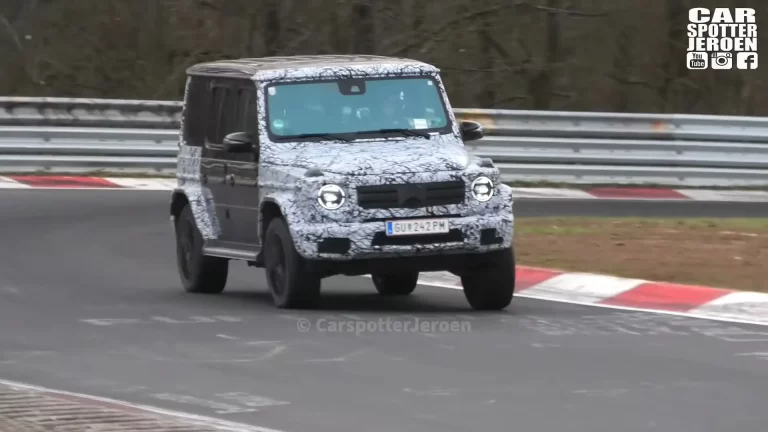 So what happened?
Jeroen reports that the incident happened on March 22nd. While testing near Adenauer Forest, the 2024 Mercedes EQG prototype stopped working properly, and at first, this looked like power loss from the EV drive. However, once the vehicle had stopped at a parking ramp, a strange noise can be heard.
To us, this is a distinctly metal-on-metal sound, and because it's only heard when the EQG is moving, it could be a broken prop shaft. Another possibility would be that a rock is caught near the brakes or the dust shield has been damaged. Either way, it was serious enough that Mercedes had to stop testing. Either way, the vehicle is still fully powered and can move.
What we know about the Mercedes EQG
After the launch of the EQC in 2018, Mercedes has been steadily growing its portfolio of electric vehicles. SUVs are the most popular type of luxury vehicle, so it was only natural to add an EV version of the popular and profitable G-Class model. After all, this is probably the most desirable off-roader in the world.
The EQG was first revealed as a concept car at the Munich Motor Show in 2021. And we believe Mercedes will deliver on the promises it made with a nearly identical production 4×4 in late 2023 or early 2024.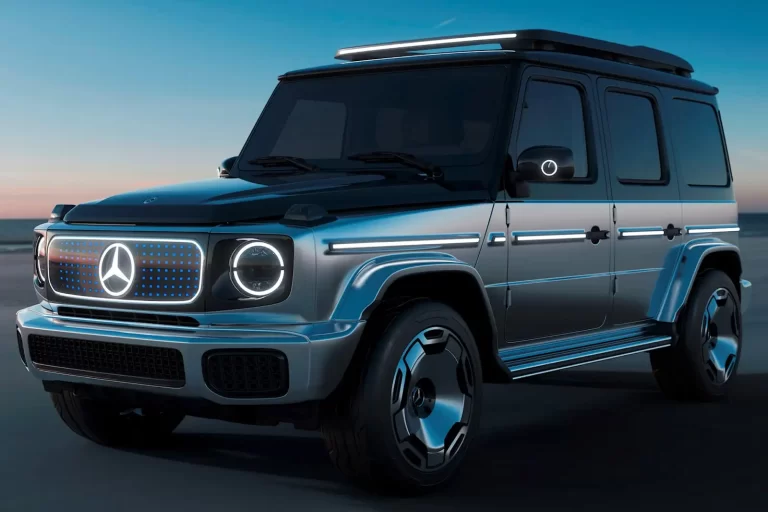 The concept was said to have four individual electric motors placed near their respective wheels and provide the ultimate off-road control. They even demonstrated how the EQG can turn in one place like a tank, one-upping Hummer's crabwalk.
Power has not been disclosed, but we believe the production version will have around 530 hp and 630 pound-feet of torque, similar to the EQS 580 SUV. But it will be powered by two motors, not four, which explains why you don't see axle motors in the spy video. Eventually, there could be an AMG version, the EQG 63, producing roughly the same 761 hp as the EQS 53 with the Dynamic Plus package.
The current G-Class came out at roughly the same time as the EQC, so Mercedes probably knew it was going to develop this 4×4 into an EV as well. This is why they made the switch to the independent front suspension. The EQG is expected to have a cutting-edge silicon-anode battery system developed with Sila. This is 20-40% denser than normal and could provide up to 300 miles of range for this heavy electric vehicle. Also expect DC fast charging at up to 200 kW, enough to add up to 190 miles in 15 minutes.