Up until a few years ago, the hot hatch didn't really appeal to American buyers. Sure, there was always the Golf GTI and R, but until the booming success of the turbocharged Civic Type R, this segment didn't have much appeal, which means Americans missed out on a bunch of pocket rockets from France, the UK, and Germany. But which ones are truly great, and should you import one?
According to the National Highway Traffic Safety Administration, you can't legally import a car that's less than 25 years old and was not originally manufactured to comply with all Federal Motor Vehicle Safety Standards and/or was not certified by its original manufacturer. But this means you can now bring over cool cars which are pre-1998, essentially opening up the 1990s.
The process is still pretty complicated and costly, which means some cars aren't cool enough. They'd just be a waste of money. Oddly, there isn't much interest in 1990s hot hatchbacks, even though this is arguably one of the best eras, with plenty of motorsport tech and features trickling down, from some of the biggest manufacturers in the world we might add.
Renault Clio Williams
Unless your dad had a strange car dealership, you've probably never heard of this car. However, the Clio RS is one of the most important small hot hatchbacks ever made, and the Clio Williams is where it all started.
People argue that Renault has been making hot hatchbacks before the Golf GTI because of the Renault 5 Gordini and Gordini Turbo in the 1970s. That's the car known as the Le Car in America, but also the Lectric Leopard. However, the Clio Williams is the blueprint of the modern hot hatch: a big engine in the front of a small, popular FWD car.
Renault had become a dominant force in motorsport, especially in Formula 1, where they were champions through the Williams-Renault team. The idea of the Clio Williams was to produce a homologation car for Group A and Group N rallying, for which they were required to produce 2,500 units. That became Series 1, but demand was so high that they produced Series 2 and 3, boosting production from the intended 3,800 to 5,400 units, thus angering the collectors who bought the original cars.
Produced from 1993 until 1996, the Clio Williams is a classic car with distinct dark blue paint and unique gold wheels, and a good 2.0-liter engine making 145 hp. The most expensive examples sold last year for around $70,000-$80,000 and we predict the value will only go up from there.
Fast Fords? Escort RS Cosworth, Fiest XR2i
Fast Fords are known to collectors in America, as exemplified by the 1970 Escort RS1600 in Fast & Furious 6. Obviously, the big one to have is the Escort RS Cosworth an insane race car from the road made from 1992 to 1996. But you'll never be able to afford one of those, not unless you've got R34 Skyline GT-R money.
If it's got to be affordable, then go for something like the Ford Fiesta XR2i. Fitted with a fuel-injected 1.6-liter making 103 hp, which is fantastic for a car that only weighed 1874 lbs (850 kg). It had alloys and a body kit, but I honestly don't think it's a true classic, and neither is the MkV Escort RS2000. Don't get me wrong; the XRs and Turbos are great fun, but they're not as famous as French cars.
All about the Peugeots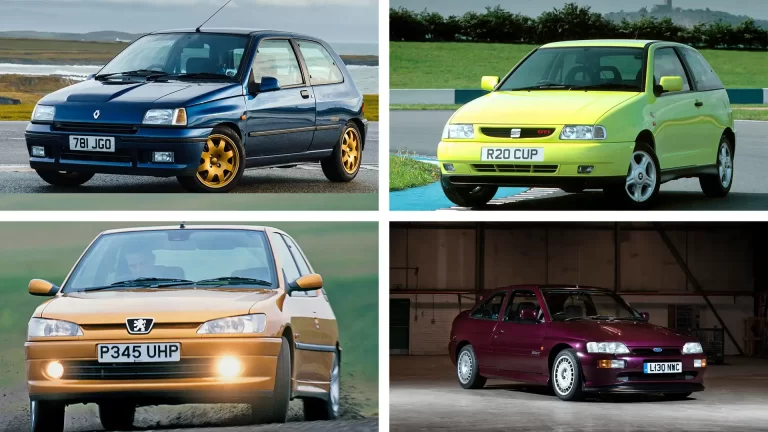 This list might as well be called "which Peugeot should you import" because the French carmaker was king, and the 205 GTi was its crown jewel. This car is technically a child of the 1980s. By October 1992, the popular 1.9-liter engine had replaced the 1.6-liter completely, but it was fitted with catalyzed. Even so, the 205 GTI has an excellent design, and I just love the plastic body cladding and interior it had no matter the year.
But the best Peugeot of the 1990s is the bigger 306 GTi-6, which probably had the best chassis of any hot hatch at the time. This was matched to a 2.0-liter four-cylinder with a twin-cam head, making 167 horsepower for a 0 to 62 time of 8 seconds.
Back in the 1990s, there was a sub 1,300cc class WRC which was very popular and led to the development of the Peugeot 106 Rallye. With 100 hp pushing a super-light body, it was nimble. There's also the Citroen Saxo VTS to consider, but Peugeots are way more collectible.
German or pseudo-German?
Americans could buy Golf GTIs, but Volkswagen ship all its hot hatchbacks across the pond. Forced induction was beginning to catch on, and VW experimented with the Polo G40, which had a belt-driven supercharger instead of the turbochargers fitted to rivals such as the Fiat Uno Turbo and Ford Fiesta RS Turbo. It made 113 hp from a 1.3-liter, plus a decent amount of torque. However, there are more interesting cars to consider, especially when VW dropped the supercharger due to high cost and reliability.
SEAT is a car brand popular with hot hatch fans across Europe, and it's also sold in Mexico, which is why this next car is on the list. The Ibiza GTI was the earliest result of SEAT's alliance with VW. After 1996, they offered the Ibiza Cupra 2.0i 16V, essentially a Golf 3 GTI engine in a much smaller package.
This article mainly focuses on European brands. But there might be Japanese cars in Europe that are worth buying. Obviously, the big one is the king of VTEC, the EK9 Civic Type R, an epic engine in a body that looks good from every angle. But Nissan produced a monster in the from of the AWD Pulsar GTI-R, with a DOHC turbocharged 2.0-liter making 217 hp. With 0 to 62 in 6 seconds, it's fast even today. Rounding off the list are oddballs like the Toyota Starlet Glanza V and Mitsubishi's Mirage Cyborg RS.