The more ambitious a project is, the higher the likelihood of it failing, which is especially true in the automotive world. While fans of the rotary engine have been begging Mazda for a return of the RX-7 and RX-8, another revolutionary powertrain is crash-landing before it even got off the ground.
The Skyactiv-X was launched in 2019 as this revolutionary new type of four-cylinder engine that combines the power of a gasoline engine with the efficiency of diesel. It uses the first retail application of Homogeneous Charge Compression Ignition(HCCI), where the gas-air mixture is sometimes ignited by a spark, like under heavy load, when fuel might spontaneously ignite. But sometimes it's ignited using compression, like a diesel.
The engine normally runs a much leaner mixture of fuel and air, thanks to the small Roots-style supercharger. Using its specially designed pistons and chamber, the Sky-X then reaches high compression of up to 16:1 and when it senses the fuel would detonate, it squirts a second small dose of fuel and ignites it, creating a shockwave.
The engine operation is more complicated than that, but in essence, it's supposed to feel like a normal 4-cylinder yet returns 20-30% better fuel economy. This is aided by the small Roots-style supercharger and is responsible for a decent power output of 177 hp and 165 pound-feet of torque (224 Nm). The only problem is that sales aren't that good, and Mazda may have to stop producing it.
Best Car Web reports that the Skyactiv-X is in trouble over in Japan. It's been removed from the Mazda3 hatchback and is only fitted to a specific version of the Mazda3 sedan with AWD. Why? Well, there's simply not enough demand, as Skyactiv-X accounts for less than 5% of the total 3 and CX-30 sales. Specifically, that's about 150 of each in Japan.
Since the introduction of the engine almost 4 years ago, Mazda has tried to achieve its emissions targets through mild-hybrid systems, which are now present on its more popular Skyactiv-G engines. The Sky-X engine never made it to the American market, which is Mazda's most profitable, but if it did, reviews might have been mixed.
It's not that good
Our source claims there are two fundamental problems with the Skyactiv-X. First, it's not a potent powertrain, which Mazda fans seem to like. The power output is barely higher than a normal 2.0-liter and that traditional supercharger torque is missing. The engine sound is also unpleasant.
Furthermore, the technology was costly to develop, which means the Skyactiv-X is priced on par with hybrids, which are smooth and simple to operate, appealing to the majority of buyers. This is true for the 3 compact, but especially on a crossover like the CX-30.
Mazda customers want to go Zoom Zoom with something like a 2.5-liter turbo, which turns the Mazda3 into a Golf GTI rival. Or they want a great deal on a family crossover that rivals BMW and Audi, in which case the Sky-X also falls short.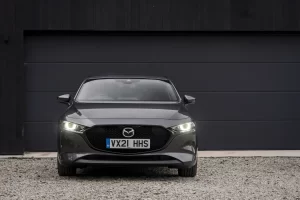 What about the new CX-60?
That may or may not be the end of the story, as Mazda is also developing Skyactiv-X as an inline-6 with a rear-wheel-drive layout. It was announced for the CX-60, the premium crossover for the European market, and was supposed to deliver "smooth acceleration and an engaging sound."
However, that was in early 2022, and during the launch event three months ago, they focused on the e-Skyactiv PHEV which uses the 2.5-liter as its base or the new inline-6 diesel. The Sky-X inline-6 could still be on its way, but with the 3.3-liter turbo in the CX-90 already producing 280 hp and being offered from $40,000, you have to wonder if it's even needed. Mazda's new bosses seem to be focused on electrification more than anything, in which case the innovative combustion system was only a temporary band aid.