Doug DeMuro recently said he is actively trying to buy 4 quirky cars, which have never been seen or driven in America until now. This list includes the Fiat Multipla, said to be the ugliest car ever made, the Audi A2, the original Mercedes A-Class and something called the Smart Crossblade. Here's what's special about all of them!
Doug is known for enthusiastically reviewing cars with lots of quirks and features. However, the vehicles he buys have generally been high-end, including a never-ending series of Mercedes and Land Rover models. In 2023, he's looking to add some really strange vehicles to his collection, including the Fiat Multipla.
As one of the biggest automotive YouTubers in the world, Doug DeMuro gets to drive everything from exotic supercars from the 1980s to brand-new luxury SUVs. He also owns eight cars at the moment, including his dream supercar, the Porsche Carrera GT. But while talking to Hoovie in a recent podcast, he revealed four really strange European cars that he's actively looking to import. These could have a real impact on car culture because three of the four are only now becoming legal to import to the United States as they are turning 25 years old.
Fiat Multipla: reviewed in 2021
During a recent talk with Hoovie, Doug revealed he's "got a guy actively looking" to buy a Fiat Multipla. Between 1998 and 2010, Fiat manufactured and sold approximately 323,000 of these small MPVs (multi-purpose vehicles). However, what Doug needs to find is one made in 1998 that's unmodified and kept in excellent condition.
The seed for this purchase was planted in 2021 when Doug finally got to review the only Multipla in the US. It's located at the Lane Motor Museum in Nashville. But what makes this car so special?
Well, in the 1990s, Fiat wanted to develop a vehicle that could carry six people. Normally, this job was reserved for 3-row minivans or large and expensive SUVs. But the Italians wanted something they could park in the city, so they took a hatchback called the Brava and made it shorter and 5 inches wider. The result was a unique 3+3 layout, almost like a van.
The Fiat Multipla is considered by many to be one of the ugliest cars ever made, mainly due to front end design, which Fiat fixed in 2004. You'd think that Jeremy Clarkson first made fun of this Italian ugly duckling, but he actually loves it and the Multipla won Top Gear Car of the Year in 2000: "This remarkable machine has reinvented the family car and kicked it into the new millennium."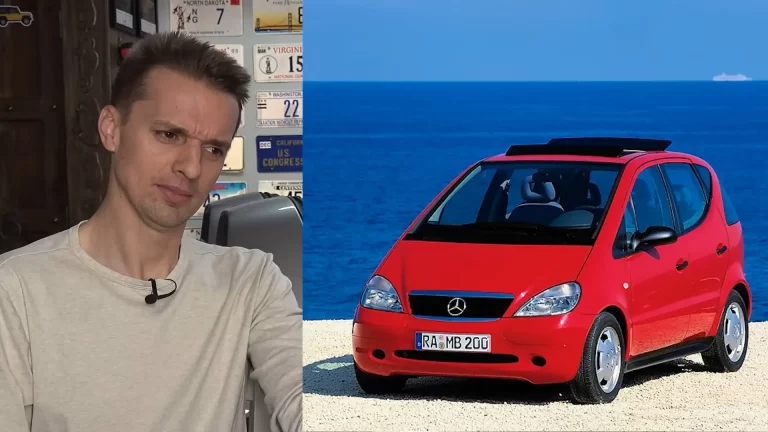 Audi A2: aluminum city car… with TDI
Doug also wants to buy an Audi A2, which I don't believe is legal just yet. For some reason, Audis are never as collectible as old BMWs and Mercedes, but Doug has always been a fan. After all, he saw the charm of the RS2 Avant and immediately bought one once it became legal in America.
The Audi A2 doesn't have the power of an RS2, and it doesn't have Porsche engineering either. It is, however, very quirky. The A2 is the polar opposite of a Fiat 500, still small, but not pretty. Hoovie says this is a "poverty spec of a luxury car," which is also true to some degree.
Several Audi classics are known for having aluminum construction, such as the A8, the R8, or the TT. The A2 is no exception and is actually the only subcompact that extensively used this material to save weight. The chassis is also an aluminum spaceframe and allowed the development of a small car that was completely different from the equivalent VW or Ford at the time.
The rear seats were lower than the front ones and felt spacious, while the trunk was an acceptable size. The Audi A2 was expensive to buy, but it was light and fuel-efficient, available with 1.4-liter 16v and TDI engines. Audi also made an ultra-efficient version with further aerodynamic improvements which was powered by a 60 hp 1.2-liter TDI 3-cylinder. That's probably the one Doug wants. Here is a 2000 review of the Audi A2 from Richard Hammon (before Top Gear).
Mercedes A-Class… not that one
In late 2018, Mercedes introduced the A-Class to the American market as a sedan. It competed in the compact luxury segment with the Audi A3. However, the A-Class wasn't always a compact car. It entered production way back in 1997 and was even smaller than the Audi A2 at about 142 inches long.
That's only 2 inches more than a Fiat 500, which is crazy considering it had four doors. The W168 generation was extremely popular with 1.1 million sold until 2004. The A-Class perfectly captured the essence of Mercedes engineering in a small package. It was not without controversy, however, as the little hatch flipped over in 1997 during the "moose test" by Teknikens Varld. We're not sure what version Doug wants to buy, but the craziest are the A32K AMG and A38 AMG, which are impossible to find.
Doug DeMuro almost bought a Smart Crossblade
After reviewing the Smart Crossblade in April 2022, Doug DeMuro knew he had to own one. Three have gone up for sale on his auction website Cars & Bids, and he actually bid on them. The last one sold for a massive $55,000, and Doug says he was the second highest bidder, so he was willing to pay at least $50,000.
The Crossblade is just like the original Smart car, a tiny commuter with a turbocharged 0.6-liter at the back. Except it's designed like one of those speedster supercars, like a Ferrari Monza SP2. Maybe that's why it costs so much.