Meet the Mansory Gronos Coupe Evo C, a 2-door version of the Mercedes G-Class with 900 horsepower, a heavily customized body, and an interior fit for a private jet. It's probably the most extremely tuned version of an AMG G63 to come out this year, thanks to suicide doors that open like those of a Rolls-Royce Wraith and paint which just won't let you look away.
There is no such thing as bad publicity, so tuner Mansory is riding a wave of outrage with this project. Only a couple of months ago, they converted the Lamborghini Urus into a 2-door coupe, something which you could previously only see in renderings. That's not the case with the G-Class, which has been available as a 2-door in the past, but that doesn't mentally prepare you for what they've done here.
First of all, the Mansory Gronos is an existing product line. Unless we're mistaken, they've created such G-Wagons for about ten years. Part of this package already existed and could be tailored to your lovely W463 new-generation SUV. They've kept several of that unique carbon fiber elements, such as the hood with multiple vent openings and air scoops.
There's also a unique and somewhat confusing widebody kit that adds over an inch of thickness to the doors, creates a strong shoulder line, and connects the new grille to the fender flares. The look is somewhat reminiscent of the Mitsubishi Pajero Evolution, a homologation special built for the Dakar rally.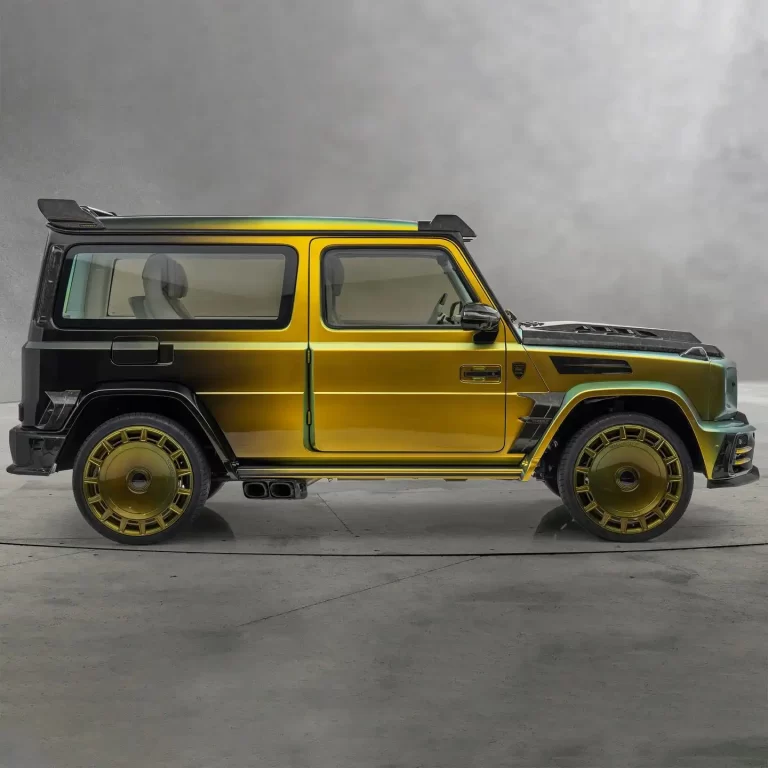 The G63 appears to have a new door which is much larger and hinges at the back, like a Rolls-Royce Dawn or Wraith. There's gold trim all over the white leather, which is about as subtle as the chameleon color, which flips from gold to green and fades to black at the rear. They're calling this color combo a "fludium chrome atmosphere painting," whatever that means.
You could honestly spend hours looking at this thing and still find new details, such as the forged carbon accessory lights over the windshield and the carbon wing at the back. This thing has a diffuser… obviously, and it rides on big wheels which are reminiscent of the old monoblock AMG design. If you want to be technical, these are called the FD.15 wheels. They're new and their 10×24 bulk is wrapped with 295/30R24 tires.
Such traction is needed because, under the hood, the monstrous German V8 has been tuned to produce 900 horsepower, which is reportedly enough to secure 0 to 62 mph times of 3.3 seconds. The company doesn't go into specifics because this is a one-off and probably costs a fortune, but that looks like a G63 engine with new turbos and a carbon cover. We believe somebody paid around $750,000 to $1,000,000 to have this car built.