Lamborghinis were made to be driven, obviously. But wait—the recipes content creators come up with in their quest to reach larger audiences seem do to anything but rack up those sweet miles. The latest example of the sort—and the most popular to date—comes from YouTuber MrBeast, who put a Lamborghini Gallardo through a shredder at a junkyard for his latest video.
With over 181 million subscribers at the time of this writing, MrBeast, the online persona of 25-year-old Jimmy Donaldson, is the most subscribed individual creator on YouTube and I won't even get into his massive presence on other social media platforms for today.
And with the vlogger having crushed a Lamborghini Gallardo using a hydraulic press—before blowing it up—eight months ago, he had to go bigger. So, before putting a Lamborghini Gallardo through a shredder as mentioned above, he turned another one into target practice material for three tanks, which shot no less than 20 armor-piercing (i.e., non-explosive) projectiles at the supercar.
So I see why you would compare MrBeast to WhistlinDiesel, even though the latter has yet to connect his tank to his now-torched Ferrari.
MrBeast destroyed a genuine Lamborghini Gallardo with that shredder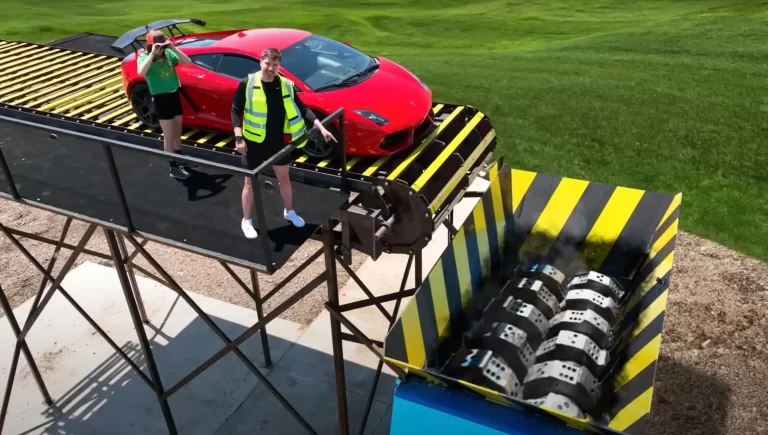 The three Gallardos MrBeast used in 2023 are genuine Lamborghinis rather than replicas. However, the American YouTuber describes the ones destroyed by the hydraulic press and the shredder as "decommissioned". Hey, that's a loose term, but other people used such a supercar to build the world's first Cummins Diesel-swapped Lamborghini Gallardo and with a gated manual!
And, if we look at the Lamborghini the shredder tore into a million pieces, we'll notice the engine and gearbox were missing, while the wheels had been replaced with aftermarket units. And boy, did the Raging Bull put up a fight!
This is the highlight of a video that brings together bits inspired by Minecraft and Worms (the vlogger also runs a YouTube channel called MrBeast Gaming) and even a DIY version of Oppenheimer. There are even some elements that harken back to the Discovery Channel's Mythbusters—hey, regarding Mythbusters hosts, I can't say this about Jamie Hyneman, but Adam Savage is on YouTube and has over 6 million subscribers.
After all, with many generations not even making a contest about choosing YouTube over TV, MrBeast's videos bring together what you'd find on multiple television channels, just to be sure the audience is entertained.
Now, the Lamborghini Gallardo that MrBeast put through the shredder is a facelifted model, the kind made between 2008 and 2013 and which came from the factory with a 5.2L V10 pushing out 560 hp at the very least. And while the Gallardo's production number—14,000 units—set a record that was beaten by the outgoing Huracan (the car MrBeast used in the thumbnails of his destruction videos), it still hurts to see one being shredded away.
Hey, you can go even further down this route and make yourself sad by thinking about MrBeast generating (considerably) more revenue out of destroying a Lamborghini than Mat Armstrong made out of rebuilding a Murcielago. However, a more logical path would be to discuss how MrBeast makes his money.
How MrBeast got rich and famous
AdSense revenue is just one of the pillars of this young entrepreneur's media empire—Donaldson, who has an estimated net worth of over $100 million as of 2023, used the momentum he gained on YouTube to launch the MrBeast Burger restaurant chain and the Feastable snack foods line.
But all of the above came after MrBeast got big, so how did he achieve his initial success? For starters, Donaldson made his YouTube debut in 2012 when he was just 13, with his first videos showing him playing video games.
He also started Beast Philanthropy and he's famous for massive giveaways and donations made to his fans, as well as to charities, a message that makes him extremely popular with companies offering sponsorships. Some describe this part of his activity as a for-profit charity, as he integrates helping others directly into his business by making videos about it.
And, as you can expect, that business model has split opinions among netizens, even though one thing everybody seems to agree on is that MrBeast constantly invests all of his energy towards keeping the audience engaged.
MrBeast lives in Winterville, North Carolina, where, as of 2018, he bought a couple of homes for himself, his family, as well as the people who work for him.
So, as far as a silver lining goes, I guess that putting a Lamborghini through a shredder and having one crushed by a hydraulic press is MrBeast's way of recognizing which car brand has the greatest impact on the public.