The only bad thing about The Grand Tour is that there isn't enough to watch. Almost a year after Scandi Flick launched on Prime Video, Clarkson, Hammond, and May are going to return with another special shot in Eastern Europe. It's called EuroCrash and will be released on Friday, June 16th, but we already know all the cars which will be featured in the special.
The setup kind of sounds like the 2004 comedy EuroTrip, but with cars. The trio of presenters is on a 1,400-mile adventure through some of the most picturesque locations Eastern Europe has to offer, going through Poland, Slovakia, Hungary, and Slovenia.
Three very strange cars will be the stars of this 2-hour special. And because filming has concluded, we already know who is driving what.
Jeremy in the Mitsuoka Le-Seyde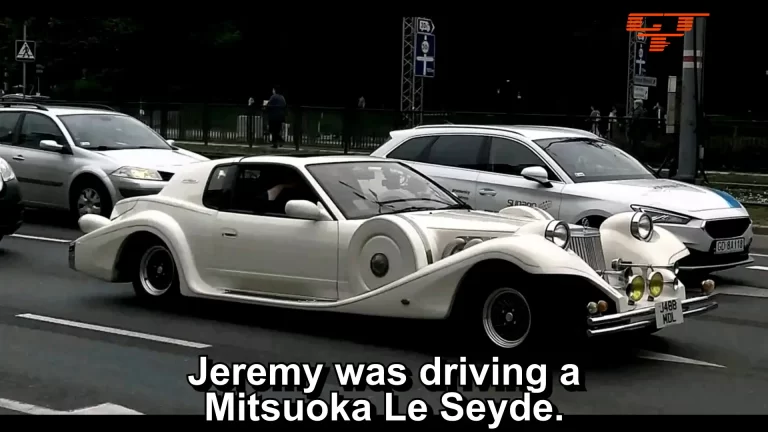 Starting things off, Jeremy Clarkson is going to be behind the wheel of a car called the Mitsuoka Le-Seyde. It's a surprising choice considering James was the one who drove Mitsuokas many years ago. This obscure Japanese company likes to manufacture retro-looking automobiles out of existing chassis.
500 Le-Seyde models were manufactured from 1990 until 1993. The design is inspired by the neo-classic Zimmer Golden Spirit of the 1980s, itself based on the luxury automobiles of the 1920s. The Mitsuoka was based on the Nissan S13 Silvia, and all were reportedly powered by the 1.8-liter making 131 horsepower and 117 pound-feet of torque, sent to the rear 15-inch wheels via a 4-speed automatic.
The average price of one is between $10,000 and $15,000, and they're quite rare outside of Japan. However, The Grand Tour might have a cheaper model with mechanical issues. We also know that the Mitsuoka gets shot up by a Mongol on a horse with a bow and arrows.
Richard in the Chevrolet SSR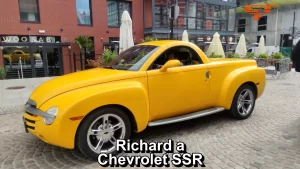 Playing his stereotypical role, Richard Hammon chose to have an American car with a similarly retro vibe. It's the iconic Chevrolet SSR, a modern take on the hot rod that's also a pickup truck and a convertible.
The Chevy SSR was featured on old Top Gear during a segment called "Cars We Don't Get." Hammond said the roadster pickup "rocks" and Clarkson made fun of him for thinking he could drive a "purple convertible pickup truck." I think the segment was during Season 4 in 2004. Almost 20 years later, Hammond got his wish.
At least the SSR is powerful, thanks to a 390 hp Chevy V8, similar to a C6 Corvette, hooked up to a Tremec T56 manual. 0 to 60 mph in 5.5 honestly isn't bad. The SSR has become quite collectible and everyone who owns one loves it. The average price of one is $30,000.
James in Crosley CC Four
Easily the weirdest car of the bunch is the Crosley CC Four convertible, which will be driven by James May in the EuroTrip special. It was built in the late 1940s in Indiana. It's front-wheel drive and tiny, which makes it quite strange for an American car. The Crosley only weighs approximately 1500 pounds and was powered by a 26 horsepower 724cc engine. Why not any other old European car? Why not a Citroen 2CV, a Fiat 500, or a VW Beetle? We can't wait to find out.
According to The Grand Tour Fans, there is also a spare car in the show which appears to be a 1954 Ford Popular hot rod. We have seen stuff like this at UK weekend amateur races. They usually have fiberglass front ends, engine swaps, and independent suspension upgrades.
Other featured cars
This being a 2-hour-long special, EuroCrash also features some interesting destinations. While in Slovakia, Jeremy stops at the Skoda factory and gets to drive a rare 1857 Skoda 1100 OHC sports car. It's red and looks like an old Ferrari. The trio also gets to check out the Patak Rodster, which is a tiny electric car with skinny tires that resembles the Morgan 3-Wheeler.
This will be one of the last times to catch the three presenters on screen, as Amazon Prime has stopped any shows associated with Jeremy Clarkson past 2024.