Almost 100 years ago, Hungarian author Frigyes Karinthy introduced the idea that everyone in the world is linked to everyone else through six people at most. And now that we live in a social media reality, a study published in the journal Nature shows that you're likely to find yourself just 3.6 persons away from anybody out there. Now, the world will be particularly small for you if you happen to be the driver of an uber-rare Porsche 959 Sport prototype and leave the supercar parked in San Francisco with the windows down and a set of mysterious keys resting in the passenger seat.
The car in question is a 1985 Porsche 959 S prototype, one of just three, and codenamed F9, with this having been spotted in the said form some hours ago on San Francisco's Union Street. For one, this is said to be the quickest 959, since it's a full 220 lbs (100 kg) lighter than the production Sport model, which in turn bests the 959 Komfort in this regard.
And, even when your Porsche isn't of historical significance to the brand and has had a hardback book dedicated to it like this one, people are going to notice. That's precisely what Redditors SRV87 and kabobinator did. The two reportedly had a chat about the whole thing as they peeked into the vehicle and saw a set of keys randomly sitting on the perforated grey leather of the passenger seat.
Of course, their finding turned into a bit of an online frenzy, so here we are. After all, the 959 revolutionized Porsche and the supercar genre altogether some 40 years ago (more on this below). Plus, little windows-down 959 Sport prototype F9 here is probably worth between $2 and $3 million (a "standard" 959 sits at about $1.7M these days), having gotten a new owner just months ago.
People leave their cars with the windows down in California to avoid thieves breaking into them
Now, San Francisco doesn't have a rain problem, so you shouldn't worry about water ruining the lavish and unique carpeted leather interior this 959 Sport prototype borrows from the 959 Komfort.
And you probably shouldn't be worried about thieves breaking into the car, either. After all—this is a working theory—the driver of the 959 probably left the windows down when parking the car specifically to deter criminals. Having the windows down means nobody can break them to get into the car while also signaling there are no valuable items to be stolen from the cabin.
Unfortunately, this is not an unusual practice in California's Bay Area, to say the least. In fact, back in December 2021, an image of two SUVs parked with their trunks open to dissuade thieves from forcing an entry went viral, as you can see in the ABC7 News tweet below. Still, the San Francisco Police Department urged drivers to avoid such extreme measures, which people had turned to after repeated double-digit increases in thefts from vehicles.
As for the keys inside the Porsche, it seems some Redditors really know their way around the topic, having identified multiple brands there, albeit with none of these appearing to be used for cars. I'm no key expect, but I've added a picture showing a pair of 959 keys from another car sold by Symbolic International to the gallery below—you can tell there's no such thing on the seat of this prototype.
So no, this isn't the world's most expensive bait car—a monitored vehicle police officers used to catch thieves—nor does it look like an attempt at insurance fraud. Instead, it seems those keys might've simply fallen out of the driver or passenger's pocket.
Now, the German factory prototype plates of the 9F 959 are there to stay. However, another Redditor (tatonka805) uploaded an image of the same car in traffic, which you'll also find in the gallery.
Snapped on a different occasion, the image confirms what one of the original posters said, namely that there's a California license plate in the rear window of the 959. You know, right next to that manually-shaped rear wing, which is just one of the quirks of this prototype—others include the lack of wheel arch liners and the signs on the wheels and fenders, which were used during the extensive testing of the vehicle and obviously maintained during its subsequent restoration.
Will this person go have a chat with the guy in the 959, whom he sees driving "now and then"? We may never know, but hey, it's a small world out there.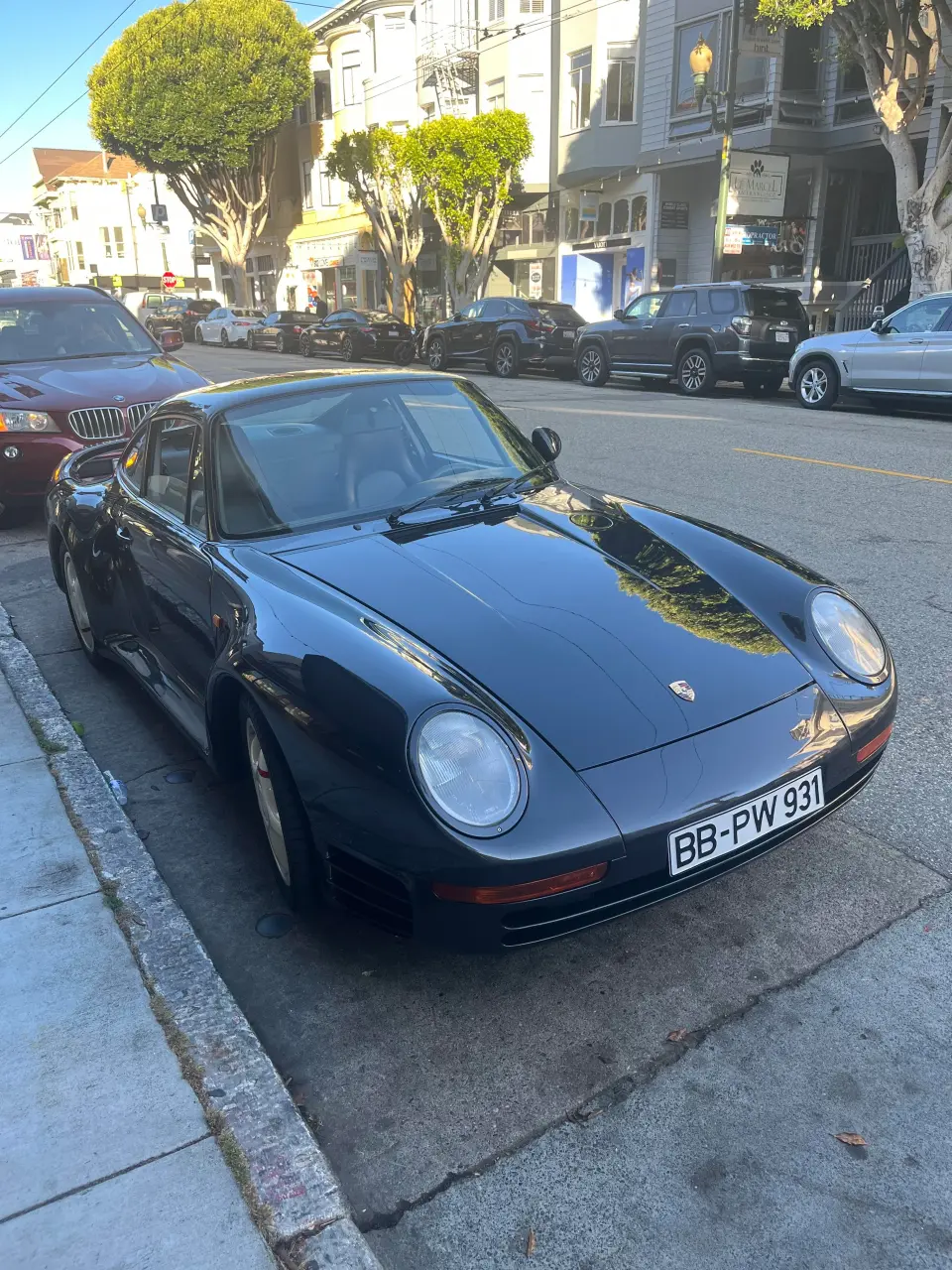 How Bill Gates and Bruce Canepa brought us the show and display rule via their 959s
The whole "extra keys" story is a bit ironic when you check out the history of the F9 959 Sport prototype thanks to Girardo, the British specialist who oversaw the sale of the car somewhere between December 2022 and May 2023.
That's because back in 1988 when the F9 left the factory as a gift to Vasek Polak, a famous US-based Porsche and Audi dealer with a major contribution to Stuttgart's American motorsport operations, the vehicle came to North America sans keys.
As Henry Catchpole explains in the Hagerty video below, which saw him driving this very 959 earlier this year, Porsche refusing to go through crash tests in the US meant the 959 wasn't legal to drive in America. However, with Bill Gates and legendary racer/car dealer Bruce Canepa both owning 959s, their lobbying eventually led to the 1999 show and display rule that allows certain significant old-school vehicles to be legally imported into the US and driven up to 2,500 miles annually without having to pass such tests.
The Porsche 959's racing DNA
Back in the 1980s, Porsche was only going to build a few hundred examples of the 959 so this could take part in dominate the infamous Group B rallying—interestingly, that also happens to be the background of the Porsche's arch nemesis, the Ferrari F40, seen here in Pink. But the extremely dangerous nature of that racing format led to its demise, so the Germans were forced to… win the Paris-Dakar rally and cross the finish line at Le Mans in 959 race cars.
As for the road car, the 959's list of innovations ranged from its sophisticated, rear-biased AWD system to its sequential twin-turbo 2.8L flat-six that reduced turbo lag, active suspension, and a host of lightweight materials like Kevlar and Normex. All this meant the "standard" 444 hp Porsche 959 could hit 60 mph in 3.6s and reach a top speed of almost 200 mph, while doubling as a luxury car that could face any weather without breaking a sweat.
Oh, and if you happen to pass by this 959 Sport prototype, remember that F9 was built without an AC compressor—plus, it sports crank windows—so your chances of ever using its side glass to check your hair are virtually nil.