Between 1997 and 2006, Porsche produced the 996 generation of its legendary 911 sports car. It featured the first water-cooled engines instead of the air-cooled ones used by all previous 911s. The 996 was also criticized for its design, with the new headlights being described as "fried eggs" due to their shape.
Nowadays, the Porsche 996 is actually very popular. Young enthusiasts with YouTube channels were able to buy their first 911 cheaply, while avid collectors recognize this child of the early 2000s as a sweet spot in the sports car's lineage. Simply put, the 996 is where modern engine performance meets steering wheel and engaging handling.
We've been following the 996 market for some time, and it's only been going up in the past few years. Ford rich collectors, there are two models which get all the attention and are the most expensive. The first is the 996.2 GT2 model (2001-2004). One sold for $387,000 last year, double the market value. The other one is the rare GT3 RS, which just set a record at $368,000.
However, a new record has just been set: the Porsche Classic Club Coupe sold for $1.3 million at Broad Arrow's Porsche 75th Anniversary Auction. This by itself would be an event. However, the owner has been revealed to be none other than comedian Jerry Seinfeld, the most famous Porsche collector in the world.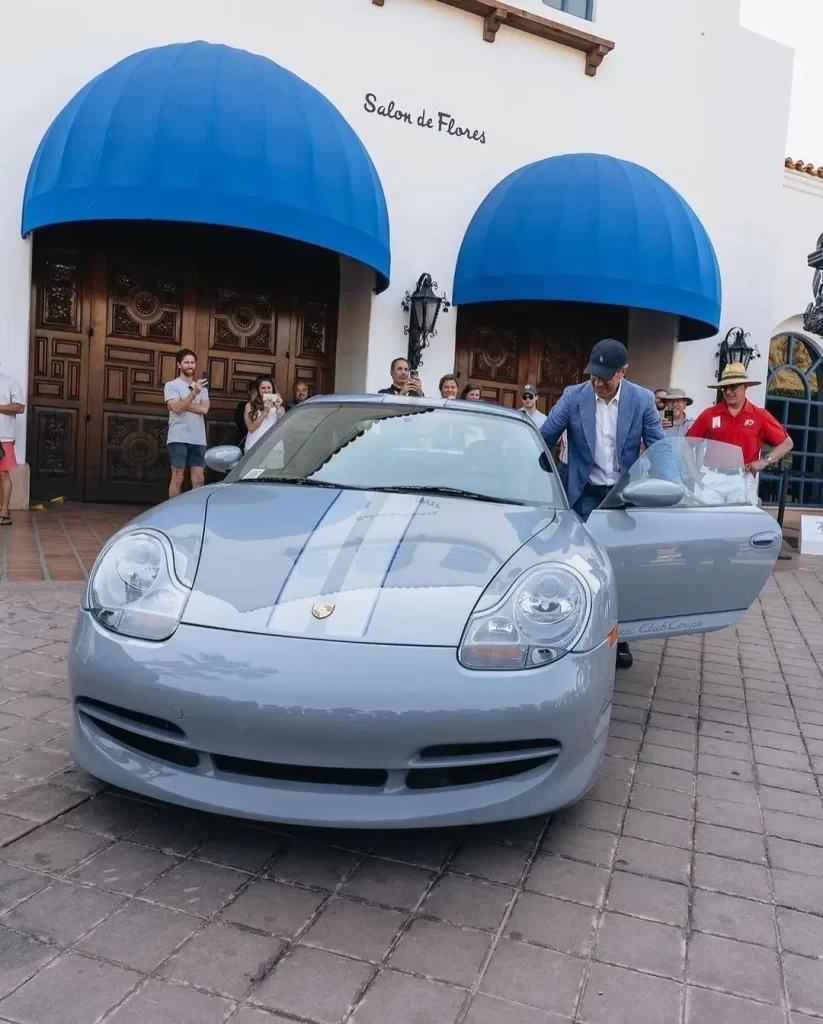 The 1999 Classic Club Coupe is a 996 unlike any other before it. The car was designed by Porsche Director of Special Projects, Grant Larson and is inspired by two other cars, the 2010 Porsche 911 Sport Classic and the current 2023 model which goes by the same name.
While it's meant to look like a series production car, it's treated like a Singer restomod. Porsche Club of America's Vu Nguyen found and bought and bought a base 996 Carrera coupe in Virginia, back in 2018. This was then shipped to Stuttgart Germany for its transformation.
The stock powertrain was replaced by a 3.6-liter flat-six out of the 996.2 GT3 model, which produced 381 hp and 284 lb-ft of torque. The team also swapped in some GT3 brakes and upgraded the chassis, which was tested at Weissach, Nardo, and the Idiada test center.
The 1999 Classic Club Coupe features a livery borrowed from the newer models, Sport Grey Metallic paint, plus stripes done in light Sport Grey metallic and Club Blau. The body kit is in perfect condition and unique 18-inch aluminum Fuchs wheels with Club Blau accents were fitted.
The interior has also been resto-modded with the help of a Porsche Classic Communication Management Plus infotainment system which has both Apple CarPlay and Android Auto. The 996 has a retro pattern on the seats and an Alcantara headliner.