Rare examples of the Fox Body Mustang are getting a lot of attention in the past few years, which suggests this child of the 1980s is being taken seriously as a collectible classic. However, there's nothing out there like this 1980 Mustang McLaren M81, which is the rarest Fox Body 'Stang and one of the most desirable, even though it only comes with a 2.3-liter engine four-cylinder.
The McLaren M81 is not the world's most expensive Fox Body. That title belongs to the 1993 Mustang Cobra R, which arrived with peak V8 performance and in very limited numbers right at the end of this generation. The value of such a car is now pushing $143,000 at auctions.
However, the Mustang McLaren M81 is more unusual and rarer because it's a prototype, not a production car. Unit #4 of 10 just sold at the Indy 2023 Mecum auction for $75,000, setting a new record. Including taxes and commissions, it adds up to about $83,000. This very famous example is 0F03A308227 and it has been sold before, three years ago for $37,400 at Barrett-Jackson Scottsdale. So why has the price doubled in such a short time?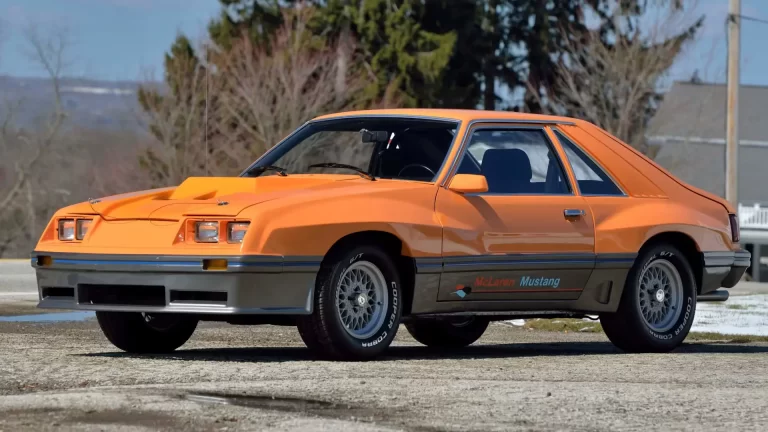 Well, Mustangs are always going to be collectible. The Fox Body is at the right age where the teens of the 1980s now have money and want to relive their youth. The McLaren Mustang has an interesting story, is rare, and cannot be replicated.
Ford wanted its buyers to be more interested in efficient muscle cars, not just big V8s. So they decided to collaborate with the race engineering company McLaren on the Mustang M81. At their Detroit shop, the 2.3-liter engines were blueprinted, polished, and de-burred. Then they topped it off with a Garrett T3 turbocharger with variable boost control, resulting in a total of 175 horsepower.
Basically, it was a hot rod treatment for the Mustang, and they had a "no warranty if you blow it up" because of the turbo boost.
175 hp doesn't sound like much now. But you have to remember V8s were choked by emissions restrictions really badly. Even the mighty 1993 Cobra R only produced 235 hp from its 5.0-liter. I think 1980 was the all-time low for the Mustang with 118 hp for the 4.2-liter 2-barrel V8. So why didn't people jump at the Mustang McLaren? Why isn't it as famous as the Buick GNX?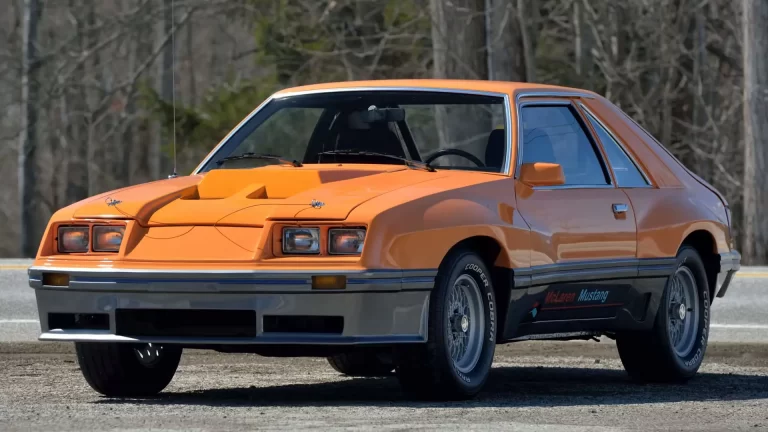 Well, it didn't quite make it because the original MSRP was $25,000, which is about $80,000 in today's money. Gary Kohs, a PR specialist for Ford at the time who spearheaded the project, said: " "We absolutely had it to the point where Ford said 'what a great project' and we actually did feasibility studies for putting them down the assembly line."
The plan was to sell 250 of these, but only 10 or 11 ended up being made due to the cost and of those, only seven are painted Bittersweet Orange like this one. One is black, one is white and two are the GT Enduro color (dark blue). Of course, the mods are much more extensive than just the engine rebuild
The Mustang M81 received an IMSA-Style Fiberglass hood, chin spoiler, active front and rear brake ducts, and a widebody kit thanks to new steel fender flares. Other performance upgrades included Koni-damped suspension with heavy-duty front and rear stabilizer bars, and BBS wheels with Firestone HPR tires. Inside, you have Recaro LS seats up front, Stewart Warner instrumentation, a 14-inch Racemark leather steering wheel, SCCA approved bolt-in roll bar, a unique Stewart Warner instrument panel integrated, and the numbered brass dash plaque.
No, this is not the first SVO car. Yes, this is the very one featured in the December 1980 issue of Motor Trend, and it's only done 556 miles.