As Americans, Europeans and other parts of the world get to understand Japan's Kei car culture better, you should know these diminutive machines can get pretty mean when modded. Case in point with Japanese Copen specialty shop Mo.Fac, which builds lifted Daihatsu Copens on Suzuki Jimny—it's now called Copeny.
What if somebody told you that your vehicle would have to be tiny and powered by an engine no larger than 660 cc and capped at 63 hp? You've just read the main characteristics of kei cars, which Japan has been running since 1949. But all these are features, not bugs, since they mean limiting fuel consumption and emissions, making traffic and parking easier, being easy to buy and maintain and, at least in the Land of the Rising Sun, paying lower taxes.
Kei cars are now officially cool around the world
Even in parts of the world where that sort of displacement normally describes one of eight cylinders, the quirkiness of these machines, which range from sports cars like the Copen to Kei trucks like this Hot Wheels legend, has come to be appreciated.
Naturally, Japanese tuners are still on top of the kei car game and things hardly get more eccentric than Mo.Fac's builds. Located in Kawanishi City, Hyogo Prefecture, this shop has been handling Copens for about 15 years.
Why this model? For one thing, the two-seater convertible is one of the most popular kei cars around the world—keep in mind that Toyota-owned Daihatsu even pushed the vehicle into Miata territory by increasing its dimensions—and engine size—for the recent Vision Copen compact sports car-previewing concept.
Gen I and Gen II Daihatsu Copens with Jimny bodies and powertrains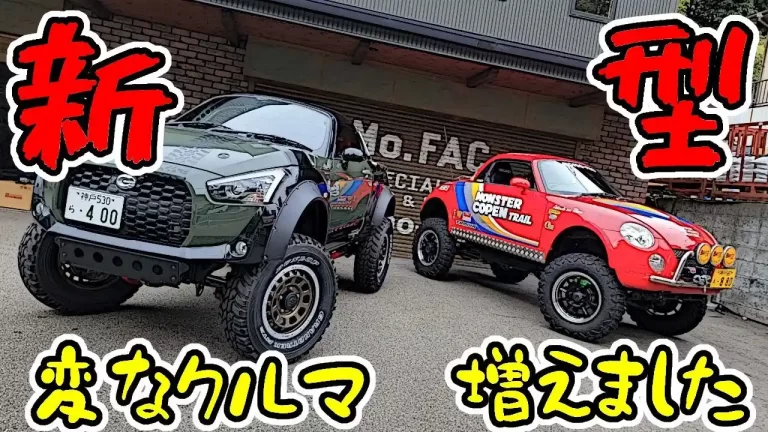 So far, Daihatsu has built two generations of the Copen. We have the retro-looking L880 Gen I (2002-2012), which traded its 659cc twin-scroll turbocharged engine for an N/A 1.3L unit (both 4-cylinders) when exported to Europe.
Then there's the more aggressive-looking LA400 Gen II (2014-present), which never returned to the Old Continent due to its predecessor's poor sales—it did get exported to Indonesia, though. Its only engine is a 658cc turbocharged three-cylinder, but with one of the four available trims being the deliciously-looking, sporty-handling GR, I'm not complaining.
As you've probably figured, these Lilliputian roadsters, with their FWD layout and their power folding hardtops, are not the ideal candidates for a lift kit. And this is why Mo.Fac went all out and mixed them with the third-generation Suzuki Jimny (1998-present). And if you're wondering whether the (factory) Jimny meets kei car regulations, the answer is yes, albeit with "shaved" fender flares and shrunken bumpers!
The L880 Copen landed on top of a Jimny JB23 (668cc L3, in pure kei car fashion). This lost its trunk lid and rear window and is now a Daihatsu Copen truck with a net over its "bed". As for the newer LA400 Copen, this was matted to a Jimny JB43 (the export kind, with an N/A 1,328cc L4).
Aftermarket parts for these Daihatsu Copen off-roaders
So these builds mix Copen exteriors and interiors mixed with Jimny chassis and powertrains. So that's AWD and locking differentials for you rugged terrain junkies. Yes, these are bona fide off-roaders, so there's a huge list of custom parts. These range from underbody protection plates and mufflers to steering bits, lifted suspension, off-road wheels and tires, accessories (e.g., winch) and the all-important stickers.
The shop talks about an official vehicle inspection while also mentioning the structure change, which means these transformations are homologated, at least over in Japan. And, in case you're thinking of safety, you should know both builds come will roll cages.
Now, the driving experience is, naturally, still that of the Jimny. However, with the Copen visuals inside and out, as well as all the mods (especially the lift) and front/rear cameras for better off-road visibility, this is the kind of drive you'll remember. In fact, a test of the two builds awaits you in the Video Option clip below, complete with tarmac and climbing sections.