For what felt like decades, Jeep had the rugged 4×4 market cornered. The Wrangler didn't innovate in areas like powertrains, design, or safety. But by canceling its entire car lineup, Ford had the development money needed for a competitive lineup of SUVs and trucks, including the all-new Bronco. This blue-badged 4×4 is now attracting Jeep buyers, who are doing Jeep mods as well. Surprise, surprise!
Jeep Wrangler mods are so common and extreme that they've become the target of jokes. The so-called "mall crawlers" are vehicles modified to look like serious off-road machines, but are only used to drive around urban areas. Their trademark features include much wider tires, suspension lifts, and expensive wheels. Sometimes, the bodywork is modified too.
The Jeep Wrangler has steadily evolved over the years, but mall crawlers gained popularity in the early 2000s, as tuning became mainstream and extreme mods became cheaper. Ford couldn't get a slice of this market until the Bronco burst onto the scene in 2021, and today, we spotted a Bronco that's been customized just like a Jeep.
This build is from a company called Esteem Custom from Miami, Florida. They're responsible for a lot of crazy 4×4 and are the first to turn the new Toyota Tundra into a 6×6. While the Bronco has also been turned into a 6×6, this one only has four wheels, though they are large ones.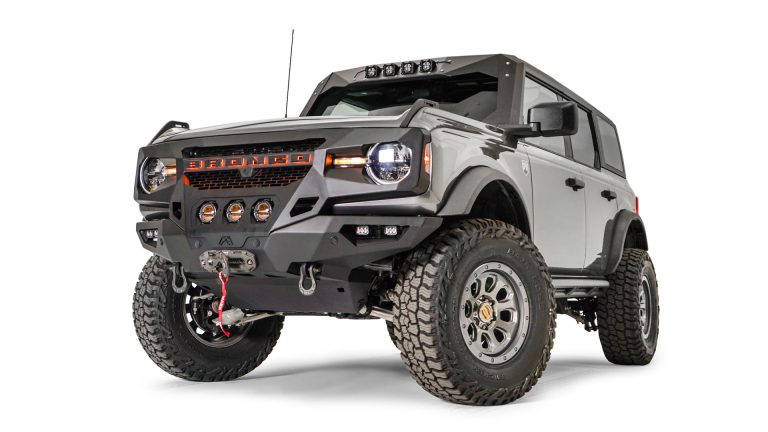 A Vossen HF6-5 22-inch gloss black wheel sits at each corner of this vehicle. Rather than having beadlock wheels for off-roading, this Bronco fully embraces its mall crawler heritage by having racy-looking flow-formed alloys which wouldn't look out of place on a Shelby GT500. A satin black wrap is used to give it a stealthy look, but that only emphasizes how immaculate the body is.
Other mods include a lift kit from ReadyLIFT Suspension Inc. and LED light pods from Rigid Industries. The Bronco has side steps and a full custom interior done in orange. However, besides the wheels, the real highlight of this build is the front end.
This is the Bronco "Grumper" made by Fab Fours. This combination between a bumper and grille can often be seen on Gladiators and Wranglers, giving the front end a unique look. It costs $2,300 and is made up of several metal plates that form a stealth fighter design, like the F-117.
And because we live in the future, the Grumper not only integrates off-road gear like tow hooks and a winch but is also compatible with parking sensors, a 360-camera, and cruise control. Its primary role is protection, as it's made up of 3/16-inch steel, weighing a total of 140 pounds. But it just looks cool thanks to the 2-stage powder coat and orange lettering. And that's how you build a mall crawler that's not a Jeep!