Hoonigan's "Lord Frightening" is one of the most famous truck builds in recent history, a tribute to the late Paul Walker and an engine swap unlike any other. If you're a fan like we are, there's a chance you could be the next owner of the 2JZ-swapped 2000 Ford F-150, because it's selling on Cars & Bids.
The second-generation SVT Lightning was introduced in 1999, a performance version of the 10th-gen F-Series. The Special Vehicle Team division installed a supercharged 5.4-liter V8 under the hood, which produced 360 hp (380 from 2001). In total, some 28,124 Lightnings were built until 2004, and… this isn't one of them.
Instead of chopping up a real Lightning, which is worth about $30,000, they used a 2000 Ford F-150 XL. In fact, this build is being sold with a rebuilt/salvage title. But considering Hoonigan does top-notch fabrication, that shouldn't be a worry.
The F-150 has the full Lightning body kit, including bumpers, grille, and flares. But it's also been slammed like a JDM car, onto some nice 19-inch Volk Racing TE37 wheels. The lowering has been done with Viking coilovers at the front and a Belltech C-Notch chassis kit at the back.
Hoonigan's project is an obvious nod to Paul Walker and the Fast franchise. Despite not playing a major part, Brian O'Connor's Ford F-150 SVT Lightning is one of the most famous cars from The Fast and The Furious, used to haul parts from work to Dom's garage to build his 1994 Toyota Supra.
Of course, everybody knows Paul Walker was a massive JDM fan, which is why the Lord Frightening has the ultimate engine swap. In place of a Ford V8, it has a 2JZ 6-cylinder motor with notable upgrade mods a Garrett Motion G-Series G30-770 turbocharger kit, 6-speed Tremec T56, and a Hoonigan x Chase Bays hydraulic handbrake.
The red truck is built to drift and do burnouts in the Hoonigan yard, but it also stops thanks to 6-piston Baer brakes. That's for the best, considering it's been dyno-tested at 500-wheel horsepower.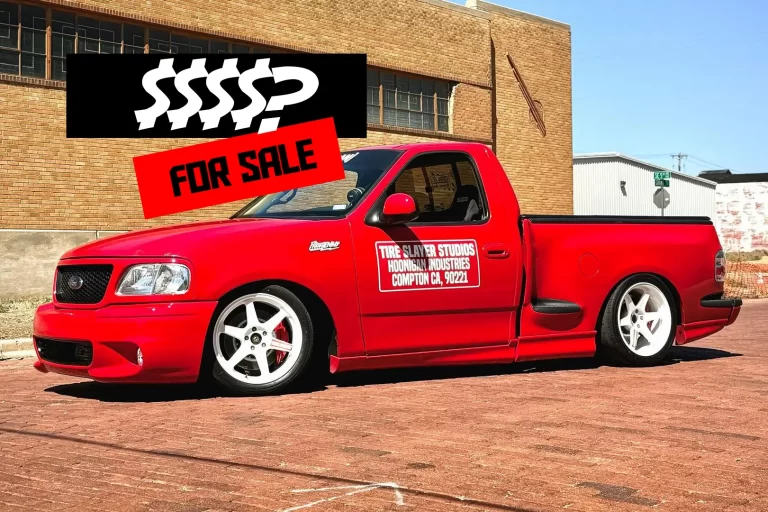 Hoonigan 2JZ Ford F-150: history and why they sold it
Hoonigan created this awesome F-150 build as the ultimate "Fast & Furious Homage Shop Truck" in collaboration with Cody Walker. As we've mentioned, the donor vehicle is not a real 1999 Lightning like they used in the movie, but a 2000 F-150 XL with V6.
The $9,500 motor was received from JDM of California and was imported from Japan with 88,000 miles showing. The project was completed in 2021 and was featured in multiple Hoonigan videos, including drag races again a 733 hp big-block Jimmy and a Hellcat-swapped Rolls-Royce.
Hoonigan originally sold it through their eBay page in 2022 to make room for new projects. Since then it's exchanged owners a few times. It failed to sell in BAT back in May, sold privately through Florida's Bullet Motorsports, and is now listed on Cars & Bids, listed by somebody in Texas.