Owning a Lamborghini used to be synonymous with being a rock star, especially in the 1980s. But you might still be surprised to learn that one of the biggest Lambo collectors of all time was British rock and pop artist Rod Stewart. This 1989 Lamborghini Countach 25th Anniversary, commonly also known as the Anniversario, is among his many purchases, and is now looking for a new owner on the auction website Bring a Trailer.
As the name suggests, the 25th Anniversary celebrated the passing of 25 years since the founding of Ferruccio's famous Italian supercar brand, back in May 1963. It sounds like a long time ago, but for Rod Stewart, that was contemporary history because his career started in 1961, and we can find records of him owning several early Lambos, a white Miura P400 (chassis 3372) and at least one 1971 Miura P400 S. Just one year later, he also bought the red and gold Miura SV Coupe, one of the best looking and most iconic supercars… ever.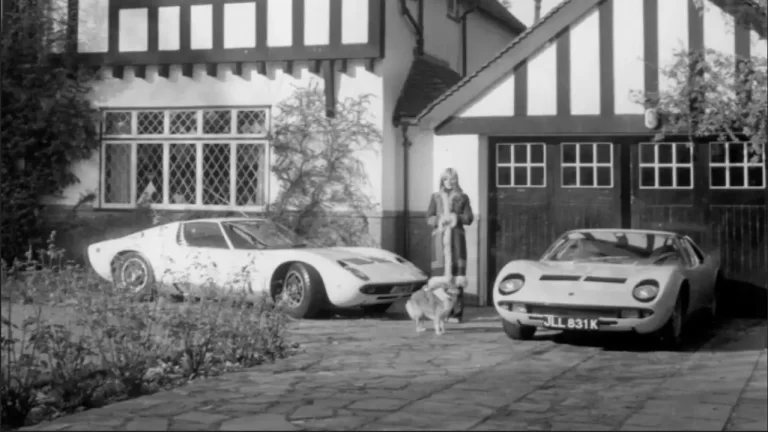 According to the seller, this Countach left the factory in November 1988 and was "purchased by Rock & Roll Hall of Fame member Rod Stewart in 1990. It was moved to Ohio in 1995, remaining with the same family until it was purchased by the seller in May 2022." It's actually pretty difficult to find photo records of him with the car, but the paperwork seems to check out. Also, Rod basically bought Lamborghinis like Elvis bought Cadillacs, and he had multiple examples of this car.
In 1977, he was touring Australia and needed a car, so he ordered an early LP400 "Periscopio." In 1988, he bought a red Countach Quattrovalvole, which has to be one of the most iconic versions, at least when it comes to the wheels, wing, and body kit.
The coolest Anniversary Edition ever!
Usually, special editions of cars are pretty lame, fitted with stickers and flashy paint in an effort to eke out some sales. But the Countach 25th Anniversary is the exact opposite. Doug DeMuro called it "the most insane exotic sports car to come out of the 1980s." So it had been owned by the celebrity for about six years. Chances are that you had this very car as a poster or toy, though it was probably red.
The revisions made by Horacio Pagani to the design of the Countach are arguably even more iconic than the classic wedge design created by Marcello Gandini in the previous decade. It had wider side skirts and front bumpers for a bolder aero look, vents to cool the brakes and those iconic vertical slats on the radiator air intakes behind the doors. Powered windows, more comfortable seats, and better air conditioning were also introduced, but Rod's car has an upgraded Alpine CD stereo as well.
And although this is a US market car, it was retrofitted with smaller European bumpers, which is why it doesn't look like the one in Wolf of Wall Street. Rod Stewart's car has black paint, a black leather interior, and a set of 15-inch OZ Racing wheels.
This is one of only 658 examples ever made, which is why this rock star's supercar will be rocking a huge price tag, probably around three-quarters of a million dollars. The current record for the Countach 25th Anniversary was set just a few months ago, $775,000 at the RM Sotheby's 2023 Arizona auction.