It was 2021 when the present Audi RS3 generation (8Y) made its debut, with this coming to the US for the 2022 model year. Even so, the German automaker is almost prepared to introduce a refresh, as a recent prototype sighting shows. So, here we are, zooming in on the 2025 Audi RS3 Sedan facelift.
While Europeans can choose between the RS3 Sportback hatch and the RS3 Sedan, only the latter is available in the US. However, the 2025 RS3 facelift will continue to be sold in America, since there's no reason for the Ingolstadt automaker to pull this compact rocket off the market.
Multiple test vehicles for the 2025 Audi RS3 facelift have been spotted testing in Europe, with the prototypes including the RS3 Sportback and the RS3 Sedan, as is the case here.
We can list the exterior changes brought by the revamp thanks to the camouflaged parts on this test vehicle. These include the front and rear bumpers, front grille, side skirts, and even the widebody-style fenders. The front grille is also getting reworked, with both the mesh design and the position of the four-ringed logo set to be updated. And while the headlights are partially camouflaged, but the taillights aren't, you can expect both to be revised.
Interior tweaks will be limited, but you can expect the facelifted RS3 to offer new features. And now that Audi has added over-the-air updates to the Q4 e-Tron and its Sportback coupe version, the RS3 should be one of the models that follow suit.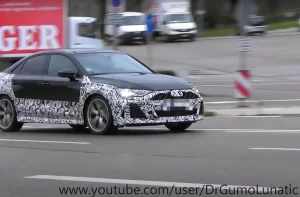 2025 Audi RS3 facelift performance and pricing
The RS3 is a unique proposition in its segment (think: BMW M2, Mercedes-AMG "45" models) since it's animated by a turbocharged 2.5-liter five-cylinder making 394 hp (401 PS) and 369 lb-ft (500 Nm) of torque.
Thanks to a 7-speed dual-clutch transmission and quattro AWD, the RS3 can complete the 0 to 60 mph sprint in under 3.5s, while needing just 11.8s for the quarter-mile. Top speed is electronically limited to 150 mph, but this can be raised to 180 hp as part of what the American market calls the Dynamic Plus pack. Expect the 2025 Audi RS3 facelift to match these stellar performance numbers. For one, here's the RS3 drag racing its RS6 big brother without any form of distress.
As for the price of the 2025 RS3, the current model carries an MSRP of $61,700 and with this being a limited revamp, the pricing increase will follow the same trend. With the 2024 model is showrooms, expect Audi to release the 2025 RS3 facelift in the next nine months.