Body kits for the early Mazda MX-5 Miata are some of my favorite stories, and there's nothing more creative or unique than the MonoCraft package, which turns the NA roadster into a faux Ferrari 250 GTO. These packages are world-famous within the Miata community, but you can never find them for sale.
Yet somebody has just listed this 1992 roadster with the MX-5 "MonoCraft" package fully installed. Not only does the vehicle appear to be in great condition, but it's also a Japanese market import "Eunos", making it even more valuable, with a New Hampshire U.S. title we might add.
Creativity is what put the JDM tuning scene on the map. This magical era of unrestricted design gave us everything from RWB Porsches to unique Lambos, and eventually movie icons like the Vailside RX-7. I mean, can you imagine looking at a Mazda MX-5, this affordable little roadster, and saying "let me turn that into a Ferrari"?
Not just any Ferrari, the MX-5 package deliberately copies the Ferrari 250 GTO, which for many years was the most expensive car in the world. The most valuable 1962 model sold for more than $48 million back in 2018. And in fact, most of the other most expensive cars are Ferraris from that era with a similar look, the 275 GTB/C Speciale, 290MM, 250 GT, and so on.
Ferrari made only 39 examples of the 250 GTO, and is considered by many to be the most beautiful Ferrari ever. As with most fake body kits, it misses the mark somewhat. The proportions are a little off, and while the front end does resemble the 250 GTO, it's less than ideal from the back. There's a far better-looking kit called the MX250 out there, which I think is British-made. But as I've said, these are not offered any longer, and they're impossible to find.
Not a credible Ferrari
The problem with the rear is that it still looks like a Miata, even though the bumper has been completely changed. Why go to all that trouble of creating the panels if you're not going to do a Kamm tail, which is so iconic on old race cars?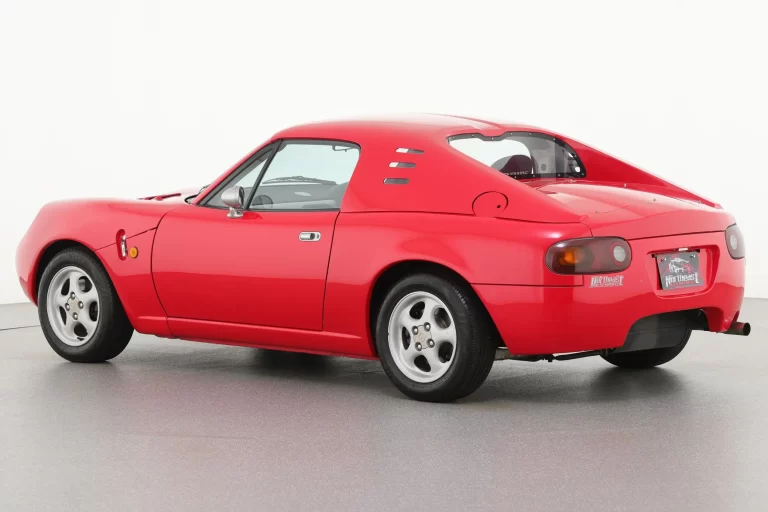 The wheel department is another missed opportunity, as the simple 5-spoke design immediately identifies this as a 1990s Mazda. There are plenty of 4-bolt wire wheels with a fake center lock. Of course, they might cost more than a whole Miata, but you don't attract car show attention by being cheap.
The listing on Cars & Bids also lists a few other upgrades which might sweeten the deal. The seller claims this is fitted with TEIN coilover suspension, a Bride Low Max driver seat, a 3-spoke Nardi steering wheel, and carbon trim all over the dashboard. Obviously, this isn't everyone's ideal Miata, but we're willing to bet some enthusiasts want one of these faux Ferraris.
There are some obvious condition issues, but this is a Japanese import with about 47,000 miles on the clock. The mods are so extreme that I doubt they can be reversed. Currently, bidding is at $9,200, and it could be worth at least $15,000 to the right buyer.
Oh, and here's Xenex Motorsports' MX Speedster kit, which seems to turn the NA Miata into a bit of a Ferrari Monza SP2.