Driving a race car on the road is one of the most common dreams among us car people. And YouTuber TJ Hunt has blurred the line between this desire and reality with his latest build. We're looking at a BMW M4 Competition Coupe sporting an official M4 GT3 carbon fiber body kit—naturally, it's all street-legal. After many months of waiting, the project recently stepped out of the paint booth in the YouTuber's go-to color (British Racing Green) and is now ready for SEMA 2023.
Tj Hunt paid $125,000 for the works BMW M4 GT3 carbon fiber body kit, which arguably doubles the value of the car, which the vlogger had bought in November last year. And that's before the myriad of adaptations and other mods required to pull this off. So why did the vlogger go through all the trouble? Even more so than GT4 racers, which are closer to production vehicle specs, GT3 race cars are the source of fascination—heck, even Audi is rumored to be building a road-legal R8 GT3 of some sort to view the ICE supercar goodbye.
And the differences between production vehicles, even monsters like the M4, and their GT3 versions, are massive. Thus, the actual M4 GT3 is stripped of all unnecessary weight (e.g., composite windows not present here) and features the carbon bodywork the YouTuber got for his street car. Able to race for 24 hours straight, the M4 GT3 also sports sturdier suspension, brakes, and other components, including motorsport-grade traction control and ABS, along with built-in air jacks for quick pit stops, which TJ Hunt also got for his M4 Competition street vehicle!
The M4 GT3 features a mid-front-engined setup, which means its more powerful engine sits about 1 foot closer to the center of the vehicle. Plus, the wheelbase of the racer is about 2 inches longer than that of the street car.
The race car's engine positioning means there are large air vents in its nose—part of an upgraded cooling system. However, with TJ Hunt's M4 keeping the factory M4 Competition engine, he had to add vented covers to those large open areas, so the unit wouldn't be exposed. For the sake of comparison, I'll mention the M4 GT3 makes 590 hp and 516 lb-ft, quite a bump from the M4 Competition's 503 hp and 479 lb-ft of twist.
Then again, with a 0 to 60 mph time of 3.9s and a 12s quarter-mile time, the M4 Competition Coupe is no slouch. Plus, Tj Hunt's British Racing Green M4 (will he sell it after SEMA?) fitted a few mods to the twin-turbo 3.0L straight-six of his M4, including a custom exhaust with a rowdy soundtrack and a tune, so you can expect those performance numbers to be even sweeter.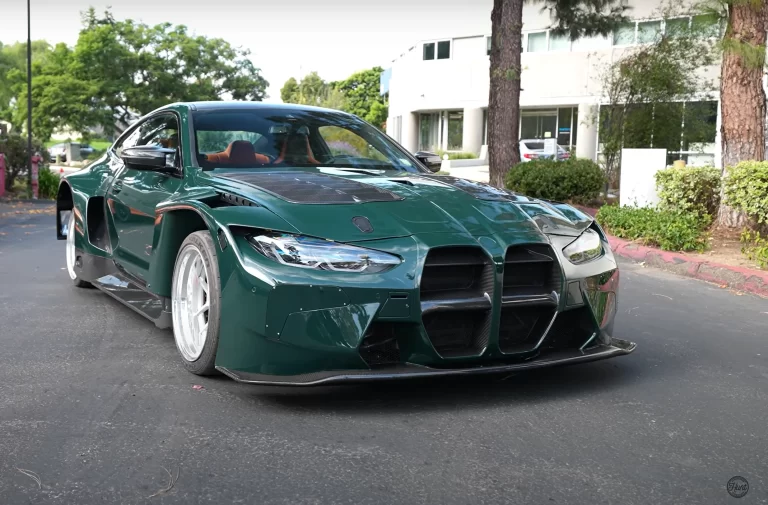 To prevent the already sky-high budget from penetrating into outer space, TJ Hunt didn't just keep the engine of his 2022 BMW M4 Competition Coupe in factory trim but also maintained the factory interior. Sure, that stripped-out racer cabin may look tempting, but the Kylami Orange interior of the street car offers all the creature comforts you could want from a daily driver. After all, Tj Hunt didn't aim for a full GT3 conversion with his M4.
The work required to make the M4 GT3 body kit fit on the street car also involved drilling holes into the carbon front bumper for the parking sensors. In addition, the build involved repositioning the radiator and oil cooler. But hey, that controversial kidney grille of the M4 (here's how Adro's custom front bumper addressed this) is now much easier to palate thanks to the all-open approach of the GT3.
The M4 GT3 runs on 18-inch wheels. And in his pursuit of the perfect race car look, Tj Hunt decided to keep his M4 on 18-inch wheels shod in tires with a specific width. His team had to install custom brake calipers that allow the new wheels to fit, with the car sporting APR Racing brakes. Other fitment steps include cutting up the front wheel wells.
The custom lowering suspension, which features Ohlins shocks (with external reservoirs) and springs, now works with… Mk V Supra rear arms allow the vehicle to get as low as possible.
In addition, Tj Hunt and his crew had to cut some of the carbon parts of the GT3 body kit for this to fit his M4, while also losing some cooling ducts that had no support on the street car.
Of course, Tj Hunt will bring Street Hunter—his own body kit brand—to SEMA 2023. However, his BMW M4 GT3 widebody build will be displayed at the Meguair's booth (with a new wheel fitment, obviously) and you can check it out starting November 31.
Meanwhile, the YouTube clip below brings the paint shop experience, along with some key suspension explanations in case you were just about to complete a similar build in your back yard. On a more serious note, I'll remind you this GT3 body kit and British Racing Green recipe is not a first for TJ Hunt, as his Ferrari 458 used to sport a similar take.
Why is the wheel gap on GT Hunt's BMW M4 GT3 so large?
Tj Hunt debuted his BMW M4 GT3 body-fitted street car at SEMA 2023, now with a massive rear wing. And, even when the color-coded British Racing Green air tank isn't popping the integrated air jacks, the wheel gap is larger than what many people expected.
Why are the wheel gaps on Tj Hunt's BMW M4 GT3 build so large? For starters, as you can see in the image gallery, the actual M4 GT3 race car comes with more generous wheel gaps than the street car. Then, as Tj Hunt explains in the clip below, the Ohlins suspension—and Supra rear arms mentioned above—can only do so much about the difference between the carbon cup car body panels and the M4 Competition street car.
We'll remind you the build sports 18-inch HRE 520 wheels that use 325-section on all four corners, as required by the xDrive AWD of the M4 Competition. It's just that the rear wheels have a larger offset for a deep-dish look. For the start, Tj Hunt's M4 GT3 build uses Mickey Thompson ET Street R, but these are drag racing tires, so he'll have to switch rubber when delivering on the promise to track the BMW.
Will this look, which is the opposite of the extremes much of the widebody community usually goes to when seeking to reduce the wheel gap, grown on fans? Guess time will tell, but the challenges of this project pretty much guarantee somebody won't try to build another one too soon, which, of course, is a bonus for this Bimmer.
Plus, Tj Hunt also used SEMA 2023 to unveil the StreetHunter widebody kit for the Gen 1 Subaru BRZ/Toyota 86 that Mihnea recently covered (5:01 timestamp). In a way, the first-gen BRZ/86 can be considered a spiritual successor to the Nissan S chassis (say S13 to S15). These are relatively affordable four-cylinder RWD sportscars with manual transmissions, so expect to see lots and lots of builds based on them in the coming years.